McCarthy sight and sound of Thunder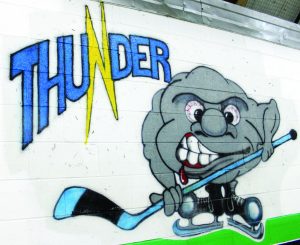 By Rob Vogt
There was no one more responsible for the sight and sound of the Claresholm Thunder senior men's hockey team than Dallas McCarthy.
Not only was he the original voice who called Thunder games down at the Claresholm Arena from 1991 to 1999, but he designed the logo that ended up on the jerseys, the exterior wall of the dressing room and inside the dressing room.
McCarthy said he was first asked to draw a logo back in 1992 or 1993 by Derek Townsend, the team's manager at the time.
He was inspired by the logo of the University of Georgia Bulldogs.
"It had the same flow to it," McCarthy said.
"We can build a cloud," he thought. "Put some skates on it, and a lightning bolt through (the Thunder)."
So he drew the logo that would not only adorn senior hockey jerseys but the uniforms of Claresholm Minor Hockey teams for decades to follow.
"It was right at the beginning of the computer age," McCarthy said, adding he then transferred it to compact disc or CD.
The one most people are familiar with is the second iteration of the logo. McCarthy had done one, a rough sketch earlier, before crafting the more familiar one.
At that time funds had been raised and a new dressing room was built.
McCarthy was into air brushing at the time, so he air-brushed the logo on the exterior wall of the new dressing room.
Later on, he added another version of the logo inside the dressing room.
"It was the more fun logo," McCarthy said.
This was one was inspired by a familiar figure – the Thunder trainer.
"It was based on Ray Weisensel," McCarthy said, adding it was the same cloud but in street clothes.
Unfortunately, McCarthy's job schedule does not allow him to come home to call any Thunder alumni games, but his artistic work will be there all weekend for everyone to see.