Claresholm Under-18 Thunder claim division hockey championship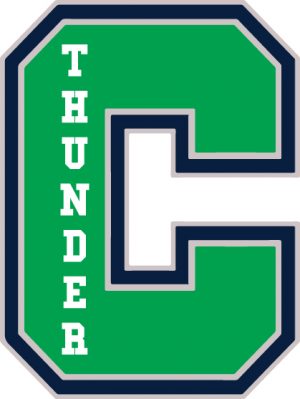 By Rob Vogt
The Claresholm Under-18 Thunder used a five-goal second period to break open a tight game and capture the Central Alberta Hockey League Tier-3 Red Division championship on Friday night.
The Thunder hosted a combined team from Foremost and Bow Island in Game 2 of their best-of-three championship final at Claresholm Arena on March 10.
The Thunder led the series 1-0 going into Game 2, on the strength of a 7-2 victory in Game 1 in Foremost on March 4.
The teams were scoreless after 20 minutes, before Claresholm took control early in the second period.
Travis Hinkle opened the scoring on the power play with 1:40 gone in the second period, assisted by Roan Crowe and Vann Woodman.
Crowe made the score 2-0 five minutes later, assisted by Hinkle, then eight minutes later Hinkle upped the lead to 3-0, with assists from Woodman and Blake Cisar.
Hinkle made the score 4-0 with an unassisted, short-handed goal with 3:30 to play, then Crowe made it 5-0 just over a minute later with assists from Hinkle and Clayton Van Langen.
The visitors managed to get on the scoreboard with just 17 seconds left in the second period to make the score 5-1 after two periods.
Hinkle scored his fourth of the game with just over six minutes gone in the third period, assisted by Colby Symens to make the score 6-1.
The visitors made the score 6-2 with 1:14 to play, but Crowe got that goal back 10 seconds later, with a short-handed effort assisted by Hinkle to make 7-2 the final score.
Goaltender Marshall Williams was stellar in net, making 48 saves, many in close, for the victory.
The Thunder will now move on to a round-robin playoff against two other division champion to determine the region's representative for the provincial championship tournament.
Game times were unavailable at press time.