ROXANNE THOMPSON, owner/publisher
I came to work at the Claresholm Local Press as the "bookkeeper" in 1985. My roles changed over the years to Advertising Sales to General Manager, Publisher and then owner.
With over 30 years of working in the community newspaper industry I have seen many changes with how we produce the newspaper. However the one thing that has remained the same is our commitment to "Informing and Promoting the Community".
I am proud to be one of the few independently owned newspapers in Alberta. This means that we have a vested interest in our community and not the bottom line. Our dedicated staff continues to go above and beyond to bring our readers all the happenings in our community and I am proud of the fact that we continue to be the most reliable source for news and advertising in our community.
My husband Keith is an electrician and has worked away from home for many years, our son Quinn has recently joined Lethbridge Emergency Services as a firefighter and paramedic.
I have been very involved in the Chamber of Commerce, and along with my husband, Keith the Claresholm Agriplex, Claresholm Curling Club and the golf club. Gardening has become a passion and past time as I start looking at semi-retirement.

ROB VOGT, editor
I started working at the Local Press in September of 2001. Originally recruited as the reporter, I have been editor since May, 2004. A graduate of the University of Alberta, as well as Lethbridge College's print journalism program, my previous experience includes just over a year as the reporter for the Macleod Gazette.
I believe I have found my niche at the Local Press. The opportunity to share people's lives, tell their stories, and contribute to recording the history of this community are all blessings I count every day.
Working in a community newspaper makes me accountable to the readers because we all live side by side.
I also take pride in knowing what I do matters to the community. For many people, the Local Press is their sole source for local news, sports, and human interest stories about their friends, family, and neighbours. That means no two days are the same. Every day offers the chance to learn something new and meet someone with an interesting story to tell.
Born and raised in Southern Alberta, I appreciate the value of hard work and commitment, something I learned from my parents on the family farm north of Coaldale.
In my spare time, I play basketball, volleyball, and slow pitch; read; work on the Great Canadian Novel; spend time with my family; and regularly post to my blog RobVogt80s.
AMANDA ZIMMER, general manager

I am the manager here at the Local Press. I am also responsible for the commercial print jobs the company handles. From wedding invitations to business cards, graphic design to newspaper and program lay-out, I am your "go-to" person. I love being able to put my creative talents to good use. Another part of my duties is to keep the computer systems in working order, as well as overseeing the day to day functions within the office.
I gained my first experience working after school in a print shop. After attaining my Printing Management Technologies diploma from SAIT I joined the staff of the Local Press full time. I've been here since 1999!
In my personal life, I'm married to Craig Zimmer, who is a long-time Claresholm resident. We have a teenage daughter, Hailyn. Hailyn is involved in various activities including, babysitting; skating; and highland dance. I share my passion for family and community by volunteering with the skating club and highland dance society.
I love living in this community and being a part of the connection people have to each other through our paper.
MAUREEN SHEARER, accounts manager

The cheerful greeting you receive both in person and over the telephone at the Local Press comes from me.
Relatively new to Claresholm, I have worked on the paper's reception desk for three years, and enjoy the company of all the friendly people who come in here.
Dealing with callers, both in person and on the telephone, takes up much of my time, but I am also responsible for taking classified ads and doing the accounts receivable. I've also become a master of the photocopier! If you have something that needs copying, I can help you achieve your desired results.
I came to Claresholm as a result of my relationship with long-time Claresholm resident Brent Shearer. We enjoy camping, spending time with our family, especially my five grandkids. I enjoy cooking and baking, cards, going for walks with our two dogs Keltie and Titus. We spend a lot of our spare time giving new life to our amazing 108 year old home.
BRANDY MCLEAN, ad sales

Being born and raised in Claresholm, I have always enjoying the Claresholm Local Press. It started before I could read, excited to look at it every Wednesday to see if I or somebody I knew was in the paper. As I got older I continued enjoying actually reading the paper.
In March of 2004 the Local Press took a gamble hiring me, a 19 year old girl, to work their front desk/accounts receivables. From there my love of reading the paper evolved to working there. In 2009, my other half, Jace McLean, and I had our first child Ty, in 2011 we had our second Jordi and that is when I made the hard decision to leave the paper to be a full time mom. 4 years later with my daughter about to start school it was time for me to start looking for work. I had been worked weekends at the Claresholm Care Center in Food Services, but I was hoping to find something that worked better with my children's schedule. I was excited when the opportunity arose for me to come back to the paper doing ad sales! And I have been back since March. Our spare time is spent chasing our children around, Ty plays hockey and Jordi skates and loves riding horses, when we have a free weekend we try to sneak some camping in too!
JILL COOK, graphic design
I'm the newest member of the Claresholm Local Press team, having just started fulltime at the beginning of September. I was headhunted by Amanda for my design ski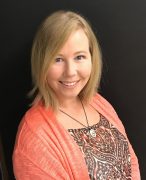 lls­ she had seen in the area. ­­­­­I live east of Stavely with my best friend and husband, Verne, and our two children, Kaleb who is 10 and Ember who is 6. We reside on a small acreage with our menagerie of hooves, paws and feathers. I am the co-founder of Stavely's SUCH Drama, and have enjoyed bringing live theatre to our small town! I am also involved in the School's Parent Council and the Stavely Archery club and the FCSS. Community is very important to me, so I want to be involved where I can be. I owned and operated a successful full service sign shop with my family in Ontario for almost a decade before heading out west. I have a diploma in graphic design from Durham College, and an honors award in art school. I enjoy being creative, and helping bring a client's vision into reality and a smile to their face. I look forward to working with you in the future!
LAWRENCE GLEASON, reporter/photographer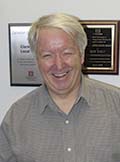 I grew up in Nicholson, British Columbia with the wide brown Columbia river always nearby. My childhood was spent on its riverbanks, catching minnows in the creek, using them for bait, setting night lines for ling. Once done high school, you either worked at the plywood plant or went to university. After five years at the local plywood plant I left with my savings to travel the world. I was gone 14 months. Once home I realized I had spent my money meant for university, which meant more years working until I was able to attend college at the ripe old age of 37. I ended up in journalism, not at all the study I had planned. My first regular writing job was with the Claresholm Local Press at the beginning of the 1990s. I wrote on an oversized Olympia typewriter I bought for five dollars at a rural yard sale south of Claresholm. Gordon Scott paid me $10 a column. As I progressed in my new career as a weekly newspaper reporter and editor in Northern Alberta I watched others make six figure salaries while I toiled for most of that time for a tenth that wage, without benefits. But I found I loved journalism. I have been a news reporter, photographer, editor, covering everything from the Slave Lake fire to municipal budgets. I've met proud gardeners, talkative seniors, silent farmers,gone on police ride-alongs, covered 50th wedding anniversaries, and high school graduations. I've photographed crop test plots, 4-H sales, and grain elevator tear-downs. I've covered MP's and MLA's, prime ministers and premiers, one speaker and many cabinet ministers. Many years ago I estimated I had 5,000 stories and 10,000 photographs published. I no longer count. Josie and I married in Claresholm, we have owned three houses here, and decided twenty years ago to retire where there is a beach a short walk away and the mountains a short drive away. We settled on keeping a little house on the prairie. Granum Pond is a short walk away. We are in the mountains after a short drive.