Closure, use of downtown lot approved for Old Fashioned Christmas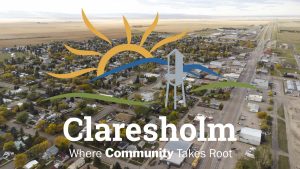 By Rob Vogt
Although fall has just started, planning is under way for the Old Fashioned Christmas event to be held in downtown Claresholm once again.
The event, established by the Claresholm Local Press more than 20 years ago, and now put on in partnership with the Claresholm and District Chamber of Commerce will take place on Friday, Dec. 1.
At its Sept. 25 meeting, Claresholm town council agreed to allow the organizers to use the downtown parking lot for the Old-Fashioned Christmas event on Dec. 1, to close the downtown parking lot including all access points, and to allow a bonfire in the downtown parking lot weather permitting.
A letter to council from Amanda Zimmer, publisher of the Local Press and event organizer, stated activities will be much the same as they have been in the past:
• Late-night shopping, until 9 p.m.
• Christmas carollers around the Christmas tree in the parking lot.
• Official lighting of the Christmas tree by the citizens of the year. Zimmer also invited council to be a part of the tree lighting.
• Horse-drawn wagon rides starting from the downtown parking lot.
• Bonfire in downtown parking lot attended by Claresholm Fire Department.
• Museum board and staff; the Welcoming Claresholm committee and other community groups have been invited to participate as well.
• They will have the ATCO Gas stage this year as well, with performances through the evening.