Old Fashioned Christmas takes place this Friday downtown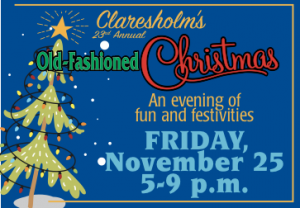 By Rob Vogt – Local Press Writer
The sights and sounds of Christmas will fill downtown Claresholm Friday night.
Old Fashioned Christmas is set to take over downtown Claresholm this Friday night, Nov. 25, kicking off the start of the Christmas shopping season.
In fact, the downtown parking lot will be closed to parking all day Friday for set up.
The event is put on by the Claresholm and District Chamber of Commerce, the Claresholm Local Press, Claresholm Shell, and Maxwell Capital Realty.
"It's a great way to kick off the Christmas season," said Amanda Zimmer, publisher of the Local Press. "It's a tradition."
It will feature businesses open for late-night shopping until 9 p.m. and much more.
Much of the action will be in the downtown parking lot.
The official tree lighting, by Roxanne Thompson, this year's citizen of the year, will take place at 6 p.m.
The Claresholm Fire Department will also have their annual bonfire starting at 6 p.m.
This year, the fire department has teamed up with MyCityCare Claresholm and local RCMP to collect new and unwrapped toys and gifts for the 2022 MyCityCare Claresholm Shop of Wonders.
Horse-drawn wagon rides that will take people, free of charge, around the downtown will run from 6 p.m. to 8 p.m. as well.
Throughout the evening, the sounds of Christmas music by John DeDominicis and Desperado Sound, will be filling the air.
The Welcoming Claresholm Committee will have a Cozy Corner with international Christmas treats and information about Christmas traditions from around the world.
People can get their pictures taken with Santa Claus at the Bargain Shop, as a fundraiser for Shop of Wonders.
The Attic will be hosting a market, while Santa's Gone Loonie will take over the Church of Jesus Christ of Latter-Day Saints from 5 p.m. to 7 p.m.
Santa's Gone Loonie is a chance for children to shop for a gift for their parents, grandparents or another adult important to them.
Over at the museum there will be a live Nativity scene and old-fashioned candies, and Christmas music on the Waack Piano.
Back this year is beef on a bun, with meat cooked by the Claresholm Lions Club, and all proceeds going to the Claresholm Food Bank. Beef on a bun is $7, available at the back of Claresholm Pharmacy.
There are some activities new this year.
One is a light parade. Vehicle decorated with Christmas lights will parade the town, starting at the downtown parking lot at 7 p.m. For anyone who wants to participate, vehicles are gathering on the east side of the lot.
Also new this year is the ATCO stage, featuring Christmas performers reading stories and singing carols.
Cast of the Claresholm Arts Society production of "Cinderella" will also be on hand to give a sneak preview of the show, which takes the stage in January.
Zimmer notes everything in the downtown is free, and she invites everyone to come out to Old Fashioned Christmas and take in all the festivities.
"It's a great way to support local businesses and get out and see some familiar faces you haven't seen in awhile," she said.
Be sure to check out our shopping guide in this week's paper for all of the great local deals!