Mayor looks back on last year, ahead to new year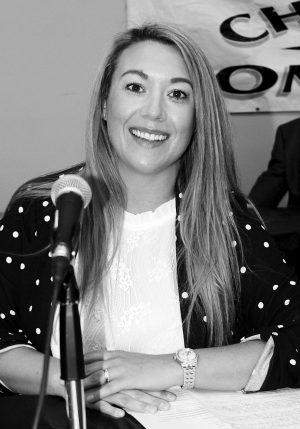 By Rob Vogt Local Press Writer
The year 2022 is just over a month old, and the mayor of Claresholm is looking back on what happened in 2021 and ahead to what the new year brings.
Chelsae Petrovic was elected in October on a three-point platform of economic development and growth; attracting more nurses and doctors to the community; and building relationships with community boards and committees.
She said she did not realize the challenges the community faced with the provincial government off-loading a portion of the cost of policing and decreasing infrastructure funding to the town at the same time.
Petrovic described the town's first budget with her as mayor as not having a lot of "wiggle room".
"It was definitely an eye opener," she said.
With the increase in cost of virtually everything, the added expenses the town has from the province, and decreased funding from the province, town council increased the franchise fee on electricity by one per cent.
Petrovic said it was something council did not want to do but felt it had to.
The community is also facing housing issues, particularly a zero percent vacancy rate for rentals.
The town is undertaking a needs assessment to look into the housing issue more closely and those results will be coming.
The mayor noted an economy cannot be built without sufficient housing because anyone coming to this community to work needs a place to live.
She observed all these issues are tied together and must be addressed accordingly.
Petrovic has also committed to attending a board meeting annually of each community organization.
"So I have a full understanding of what each one does for the community," she said.
Another part of that, and creating greater accountability, is a process whereby each member of town council reports on the boards and committees they sit on.
She has said community organizations are the strength of the community.
"There are so many great leaders in our community," she observed, adding they all lead in their own way.
Looking ahead to 2022, Petrovic said council is doing a lot of groundwork and strategic planning.
"We're building a really good, solid foundation going forward," she said.
The work may not be visual, and out front, but is occurring.
"We'll start to see the result of all that hard work," the mayor said.
She points to economic development as an example where the ground work has to be laid before attracting new businesses.
"All those things take time," she said.
Petrovic also wants to see the community spirit brightened as, hopefully, the world comes out of the pandemic.
At a time where people are feeling sluggish, they can start building relationships again.
"Hopefully we can start to get back to some normalcy," Petrovic said.