Gospel singer with local roots at Willow Creek jamboree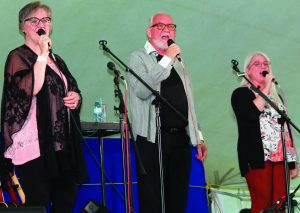 By Rob Vogt Local Press Writer
Duane Roset calls her one of the best
sopranos in this genre of music.
Roset, who heads the trio fittingly called "Roset", was referring to Claresholm native Charlene Brummund (née Baker), when they performed at this past weekend's Willow Creek Gospel Music Jamboree.
When she introduced herself during Friday night's performance, Brummund said she was glad to be performing near her home town and was happy her parents, Ken and Peggy Baker, were in the audience to support her.
Brummund started singing with Roset in 2008.
She had been asked to sing as part of a worship team at her church in Medicine Hat where she met Duane and Marilyn Roset.
"We sang so easily, blended so well," Brummund said.
At that point the Rosets' daughter had been singing with them but decided to move on.
So Brummund joined Roset, and has been with them ever since
She started singing in her early teens at the Claresholm Church of the Nazarene.
"I've always been singing in the Christian music genre," Brummund said.
She graduated from Willow Creek Composite High School in 1987. Then, with her twin brother Warren Baker, went off to Bible school at Canadian Nazarene College in Winnipeg, where she studied voice.
Brummund moved on to Calgary, where she worked for an oil company.
One day, Steven Brummund came to church and heard Charlene sing. He asked her out the next day.
"We've been together ever since," she said.
They have been married 31 years, and have two grown boys in their twenties.
Brummund currently works for Alberta Health Services.
Through it all, one thing has remained constant.
"I've never stopped singing," she said.
The Willow Creek Gospel Music Jamboree took place at Granview Park in Granum from July 22 to 24.
In addition to Roset, the performers were Prairie Joe; the Fehr Family Band; and the Fraser Valley Quartet.
The jamboree was emceed by Darrel Janz, a retired TV journalist from Calgary.
"Jungle" Jim Hunter, a decorated member of Canada's ski team in the 1970s and two-time Olympian, was the guest speaker at the Sunday morning service.