'The Range' hits the road for second straight year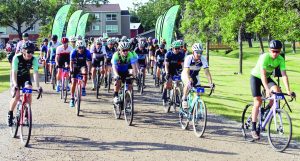 By Rob Vogt Local Press Writer
The Centennial Park Campground was bulging with cyclists ready to hit the road on Saturday morning.
Then they headed out on a rolling start on a ride that would take the better part of four hours or more.
The event was "The Range", a 128-kilometre endurance gravel cycling event that headed west of Claresholm, through the gravel roads and into the Porcupine Hills on July 23, with a total of 250 participants registering.
It was the second year for the event, but the first time it launched from Centennial Park.
"It went well," said Garth Stotts, organizer of the event.
It was also the second straight year the event sold out. Registration opened Feb. 1 and was full by Feb. 2.
He initially organized "The Range" for a specific reason.
"I really didn't see a lot of premiere races in this area," Stotts said.
He wanted to highlight the scenery and the experience riding in the hills west of Claresholm.
"We had everything to put on a great race," he said, adding it filled a need.
It has become a popular event, but Stotts is not sure he will organize a third one, although he has not ruled it out either.
"Everyone likes it," he said, adding the Town of Claresholm and Municipal District of Willow Creek are excited about it too.
Now that he has organized two events, and the event is established, Stotts said there are a lot of options and potential to take "The Range" in different directions.
He will just have to wait and see now.