Garage sale raises $1,400 for Ukraine, youth fund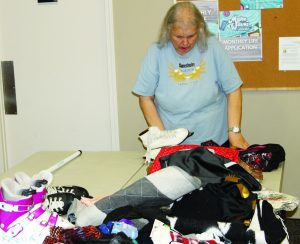 By Rob Vogt Local Press Writer
Claresholm was abuzz with activity as there were more than 30 stops on the community-wide garage sale this past Saturday, with one very special sale with a distinct purpose.
The Willow Creek Ministerial, made up of several churches in the community, held a sale at Faith Community Baptist Church on June 18.
Proceeds from the sale totalled $1,454.10 and were divided evenly between the Claresholm Creative Fund and Samaritan's Purse in Ukraine.
The goal of the Claresholm Creative Fund is to help children and teens in need to participate in creative activities, whether it is Brownies, Guides, Scouts, 4-H, music lessons, art classes and more.
Samaritan's Purse is on the ground in Ukraine partnering with local churches to supply critical items to an increasingly strained health-care system.
They have also established their own emergency field hospital and other medical clinics operated by their Disaster Response Team since the start of the crisis.
Pastor Joseph Steeves of Faith Community Baptist Church and a member of the Willow Creek Ministerial, said the idea had its start earlier this year.
Members asked what would God have them do that they would not do alone?
Leaders of various churches met and saw a need in the community.
With the closure of the Friendz Closet and the Salvation Army Thrift Store, there was no place dedicated to clothing.
"We wanted to touch the community with the love of Jesus," Steeves said.
Consequently, they decided to use the day of the community-wide garage sale as an opportunity to have a sale of clothes, used sporting goods, and used children's toys.
Initially to be held outside in the empty lot where the former town office once stood, forecasts of rain compelled organizers to move the event inside.
In addition to the sale, the day featured two bouncy castles, hot dogs, water, and fellowship.
Steeves explained the Ministerial wanted to support a local cause and a global cause.
Hence Samaritan's Purse is global and the Claresholm Creative Fund is local.
"We thought it was a worthwhile cause to invest in our community," Steeves said.