School says farewell to longtime teacher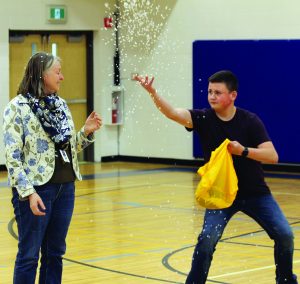 By Rob Vogt Local Press Writer
Doused with confetti and showered with accolades, a longtime teacher at Willow Creek Composite High School was sent off in style at the final assembly of the school year.
"This individual is famous for her ability to captivate a class, and other staff members, with her story-telling abilities," said Principal Jackie Kark at the assembly on Thursday, June 16. "Her ability to fuse story into curriculum is unrivaled by few. There have been many occasions when my 'quick visit' to this person's class turns into a good 20 to 30 minutes because I need to know how the story ends. I learned so much about WCCHS when I first arrived from this knowledgeable person."
Kark was referring to Myrna Newman who has been with the school division since October of 1987, serving in a variety of roles including learning coach, elementary school teacher, and most recently junior high English and social studies teacher.
She also teaches graphic design, French, supervises yearbook, crafts and the list goes on.
"Ms. Newman has been instrumental in the production of the WCCHS yearbook, spending many hours taking photos and making sure the yearbook is wrapped up well into July," Kark said.
"In Ms. Newman's years of teaching with LRSD (Livingstone Range School Division), she has impacted countless people – staff and students alike," she continued. "I am certain that most of us can come up with several ways that Ms. Newman has made our time at WCCHS just a little bit better."
Kark then invited up students Emmitt Carlson and Anastasia Skelliter to say a few words.
"It's going to be a darn shame to see her leave," Carlson said. "Short and sweet – happy retirement Newman."
"You have been a cherished teacher in the school for so many years," Skelliter said.
She remembered starting Grade 8 and how Newman made the transition from Grade 7 smoother.
"You taught us about maturity, standing up for our selves," Skelliter said.
A lot of connections were made too, that lasted.
"I hope you enjoy your retirement," she said.
With that, students held up signs
wishing Newman well, then rushed their teacher, showering her with confetti.
Gift presentations and a slideshow
followed.
The day concluded with cake in the common area, and an opportunity for students to say something to Newman one-on-on.
There were a lot of hugs, and a few tears.