Council learns more about STARS; requests $2 per capita from council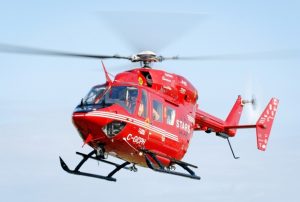 By Rob Vogt, Local Press Writer
STARS Air Ambulance provides a vital service to the community.
At Claresholm town council's Sept. 12 meeting, representatives of STARS paid a visit to update council on STARS' activities and request support of $2 per capita from council.
Glenda Farnden, senior municipal relations liaison for STARS, who appeared as a delegation, said she has been working with rural and urban municipal councils for 16 years in Alberta and B.C.
She explained the pandemic continues in many ways. STARS has remained under strict protocols to protect operations. That has included taking a slow integration of staff back to base.
They have continued to see increases in stress-related types of missions such as heart attack, stroke and drug overdoses.
In the height of the COVID-19 pandemic, one in five missions was COVID-related. Now they are seeing a decrease in cases, hospitalizations, and severity.
STARS transport physicians continue to assist hospital personnel with critical care guidance, virtual consultation, and ventilation and resuscitation procedures.
The STARS emergency link centre is located in Calgary and it provides a 24-hour-a-day, seven-day-a-week network. It provides access to every available resource as well as Global Information System mapping. Transport physicians also provide medical oversight on all calls deemed critical. They determine the mechanism of injury and illness, and help dispatch an appropriate level of response.
Farnden said STARS is seeing a 10-to-1 ratio for STARS community assistance. That means for every 10 missions in Claresholm for example, it is likely STARS assisted personnel with 100 missions through virtual consultation.
This year, overall, STARS is seeing an average of 99 emergency service requests per day. Last year they dealt with 36,000 emergency requests.
Transport physicians are also now taking a shift in the emergency link centre, and that is proving to be extremely effective.
They coordinate the complex logistical arrangements with receiving hospitals. That can include neurosurgeons; mobilizing specialty teams; the cardiac cath lab; or CAT scanners, which would be mandatory for stroke patients.
All physicians are in virtual consultation with receiving hospitals and receiving physicians.
Now they are able to make face-to-face decisions using real-time diagnostics.
"This is proving to have positive results in critical and trauma patients in now having direct access to the delivery room upon arrival at the hospital with improved patient outcomes," Farnden said. "It's a game changer."
She then provided a five-year overview for the Town of Claresholm and Municipal District of Willow Creek.
"You do have a very busy hospital here within Claresholm," Farnden said.
In Claresholm, there was an average of 12 STARS missions per year, which equates to $90,000 in service value.
In the M.D., there was an average of 27 missions per year, which could include Claresholm residents, equating to $200,000 in service value.
Farnden noted in the M.D. boundaries, over a five-year period, a total of 92 patients, and 217 since 2010, were flown across three provinces.
"Partnership allows us to be there for your residents no matter where they may travel across Western Canada," Farnden said, from six bases located in three provinces.
Farnden pointed out the municipal effort, where 90 percent of rural and urban municipalities in Alberta make a financial contribution to STARS on a per capita or fixed sum budget every year.
She then explained the recent fleet campaign, where STARS raised $138 million to purchase nine new H145 helicopters to renew their fleet. They had their hand forced because the pandemic caused issues with getting parts for the existing helicopters.
Consequently, with federal, provincial, and municipal government funding, they were able to provide seven of the nine helicopters.
The remaining $47 million was generated from corporate support, dedicated individuals, and small municipality contributions.
STARS also decided to take advantage of pricing to purchase a 10th helicopter. They are hoping the proceeds of sales of the previous helicopters will offset the cost of the 10th helicopter. They also have some corporate donours interested.
Farnden noted the M.D. and this area is one of the first to be serviced by the new helicopter because the Calgary base was the first to receive one.
The new H145 helicopter, Farnden said, contains breakthrough technology that allows it to outperform its predecessor in speed, range, and fuel efficiency. It has powerful twin engines; and advanced avionics like auto-pilot and auto-hover, which will reduce pilot fatigue especially in back-to-back missions.
It also has superior safety features; is five bladed which increases lift and load capacity that is beneficial in complex terrain; and requires less maintenance, which leads to increased availability and reduced cost.
STARS offers the highest level of critical care, with crews with world-class expertise, including an intensive care unit nurse, advanced life support paramedic, and transport physician oversight in the emergency link centre.
There are also virtual enhancements, as each helicopter is equipped with blue tooth, integrated wifi, and satellite connectivity. This allows STARS to use the latest in cutting edge diagnostics. An example is a hand-held ultrasound which helps determine internal bleeding, a collapsed lung, or heart abnormality. Test results can be transmitted, while STARS is airborne, to physicians at the receiving hospitals.
Life-saving blood is also on board the helicopter. That is blood that is universally accepted by everyone.
"It's save many, many lives," Farnden said.
She said STARS was born out of necessity, and has been serving Albertans since 1985, with more than 50,000 missions flown.
"More importantly at no cost to our patients," Farnden said.
She then requested council consider joining many of its municipal neighbours in partnership and help STARS offset the annual costs each year in this area.
Farnden asked for a $2 per capita commitment for a three-year term, in conjunction with the remainder of council's term.
She also noted many municipalities chose to go away from a per capita donation to a fixed rate sum in their budget.
"The more important piece is it's providing us sustainability," Farnden said.
"A life is saved every day and it's partnership that has made it possible," she later added.
Mayor Chelsae Petrovic said council does no make decisions on requests by delegations at the same meeting the request is made, so the matter will be on a future agenda of council.
"We definitely appreciate you coming out," she said.