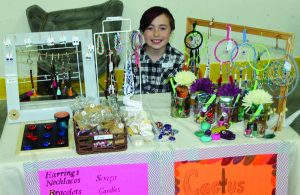 By Rob Vogt, Local Press Writer
The Claresholm Arena came alive this past weekend with the sights and sounds of a Young Creators Market.
The event, which took place Saturday, Aug. 21, was organized by Megan McClung and Naomi Bullock, who want to foster the entrepreneurial spirit in young people.
The market featured 31 tables with youth ranging in age from four to 16 selling everything from balloon animals, jewellery and baking to face painting and much more.
"The goal always is community," McClung said. "Anytime we can bring something to see to Claresholm, it's awesome."
In the spring she hosted a market through her business that included young people, and McClung observed people loved seeing kids at the market.
That gave her an idea.
"We need to have just kids (at their own market) to have the opportunity to feel this," McClung said.
The idea is to teach kids skills beyond the day of the market.
"They'll go away learning skills to be an entrepreneur," she said. "But most importantly confidence."
By all signs, the market was a success.
Not only did it attract youth vendors from Claresholm, Stavely, Granum, Lethbridge, Taber and Calgary, but by the halfway point, about 265 people had visited the market, and they were supporting the vendors.
"Half them are almost sold out," McClung said, with still more than an hour left in the market.
Planning has already started for a Christmas young creators market, and word is spreading across Southern Alberta.
There will be a young creators market in Lethbridge in about four weeks, and another one in Calgary, both planned after consulting with McClung and Bullock.
"It's already snow balled," McClung said.