Registration fair next Wednesday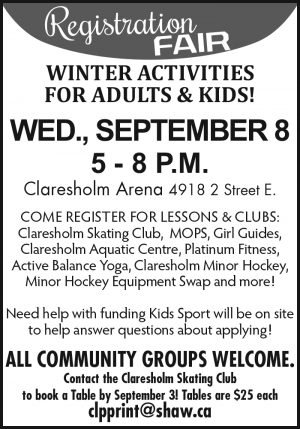 By Rob Vogt, Local Press Writer
It is an opportunity for you to sign up yourself or your kids for fall activities, all under one roof.
The Claresholm Skating Club is hosting its annual registration fair on Wednesday, Sept. 8, from 5 p.m. to
8 p.m. at the Claresholm Arena.
Amanda Zimmer, of the skating club, said organizations are still welcome to book a table.
"It's a great opportunity to promote your organization in the community," she said.
Tables are $25 to rent, and the deadline to register is Sept. 3.
Some of the organizations who will have tables at the registration fair are:
• Claresholm Skating Club;
• Claresholm Minor Hockey, who will have an equipment swap as well;
• Mothers Of Pre Schoolers;
• Girl Guides;
• Active Balance Yoga;
• Claresholm Aquatic Centre;
• KidSport;
• Cindy Gray's Dance;
• Platinum Fitness;
and more.
Zimmer said the registration fair is also an opportunity for people to sign up to volunteer with different organizations.
There's still time to register your group. Anyone interested in more information or in booking a table in the registration fair can e-mail
clpprint@shaw.ca.