Walk to Breathe coming through Claresholm in July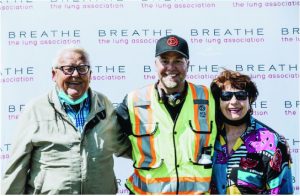 Lung association fundraiser
By Rob Vogt, Local Press Writer
It is one of the most basic parts of life – the ability to breathe.
Yet thousands of Albertans struggle to breathe every day and they need support to help them in their struggle with lung disease.
Chris Sadleir, of Edmonton, is going to do something about that.
He is going to walk more than 500 kilometres from Lethbridge to Edmonton to raise funds for the Lung Association of Alberta and Northwest Territories to support people dealing with lung disease, and awareness of its far-reaching effects.
His journey began about 6.5 years ago when his father was diagnosed with Idiopathic Pulmonary Fibrosis that results in scarring of the lungs.
The only treatment is a double lung transplant.
In July of 2016 the call came – he was going to receive that transplant.
So, Sadleir decided he wanted to do something to honour his father and that life-saving transplant.
Consequently, in 2020 he decided to walk from Calgary to Edmonton, an 11-day, 330-kilometre trip, with a goal of raising $22,000.
That number symbolizes the number of breaths a person takes every day.
The walk exceeded all expectations, as Sadleir had already reached his goal by the halfway point of the walk, so he set his sights higher.
By the time he reached Edmonton, he had raised $33,000, but it was about more than the money.
"Moreso than the money, it was the highlighted awareness," Sadleir said.
And it was the stories he heard along the way.
Some would share their own experiences of how lung disease has affected their lives, while others didn't know what the lung association did.
Moreover, one in five Albertans suffer lung disease, and many more are directly affected. It includes cystic fibrosis sleep apnea, asthma, the flu, bronchitis and much more. COVID-19 in itself attacks the lungs.
However, lung disease only receives about one third of the government funding it needs.
Initially, Sadleir intended the 2020 walk to be a once-in-a-lifetime event.
Instead, he decided to do it again, expanding the walk to include Southern Alberta as well.
He will be starting his walk in Lethbridge on July 7.
He will walk 30 kilometres a day through heat, rain, showers or whatever other weather may present itself.
Sadleir will also be passing by Claresholm, where he has a connection. His aunt Linda Sherman and cousins Shannon Thompson and Lisa Martin are part of the local community.
He arrives in Edmonton on July 23, five years to the day that Sadleir's father received his life-saving lung transplant.
The walk will conclude at a very special place in Edmonton called "Breathing Space".
Right now it is a vacant lot, but will eventually become, as Sadleir describes it, a Ronald McDonald House for lung transplants. It will house up to 50 candidates at one time and take away some of the financial hardship they and their families have staying away from home while receiving their transplants.
For anyone interested in more information, Sadleir has set up a donation page at https://www.ab.lung.ca/walktobreathe.