Local author releases four-book series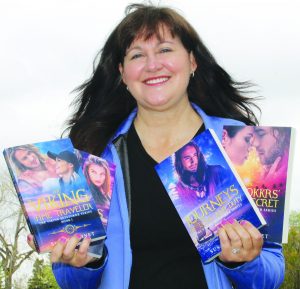 By Rob Vogt, Local Press Writer
Have you ever started reading a series of books but, because it takes so long between books, you either forget what is happening or lose interest?
Claresholm author Susan Bohnet did not want that to happen with her series "The Viking Setstokkr Series", so she undertook what she describes as a rapid release.
The result is four books released from November of 2020 until now.
According to an online description, the story is about Leif the Viking and a woman named Becca.
"(He) is having a terrible day. He's been robbed, his brother is kidnapped, and to top it off he suspects he's dying. Before he dies, he has to rescue his brother and get his property back.
"The property? Leif always thought it was a family good luck charm. Wrong. The wooden beam is a magical setstokker with more power than he ever imagined."
Becca is a woman running from bad news.
"Becca has received a terminal cancer diagnosis and has decided to make the best of it. She's enjoying her bucket list. First item – travel to Scotland from her home in the States and go to a Viking festival," the online description continued.
"There, she meets the magnetic and possibly mentally unstable Leif. It seems unbelievable that he's from the past.
"Except…there are so many things backing up his story, including some very Viking-looking enemies.
"Should she believe Leif? Her time is running out, so what does she have to lose?
"In this sweet time travel adventure series, forces from their separate times threaten to tear Leif and Becca apart."
Bohnet started writing the first book, "The Viking Time Traveller" in 2017.
"As a reader, I really like to read series," she said.
However, she does not like to wait too long for the next book.
So when it came to her own series, she was not going to make readers wait too long.
She released the first book in November of 2020.
The second book, "Captors and Spoils" was released in December of 2020.
The third book, "Journeys of Love and Duty" was released in January of 2021, and the final instalment, "The Setstokkrs' Final Secret" is now available.
The idea for the story came from a conversation Bohnet was having with her family one day about Viking explorer Leif Ericsson who, she heard, was the first European to set foot in Canada.
"I just thought he was pretty awesome," she said. "The more I learned about him, the more I wanted to have a fictionalized version of him in a story."
At the same time, she not only wanted to do an exciting, adventure story but also a romance.
The first book was the product of National Novel Writing Month, or NaNoWriMo, where writers take up the challenge to write a novel of at least 50,000 words in the month of November. The fourth book was another product of a NaNoWriMo.
Bohnet self-published the books, and they are available on amazon.com as well as at The Attic and Gallery Gifts in Claresholm.
The series brings Bohnet's published works to 10 books in total, and she is already figuring out her next project.
She put out a question on her Instagram account asking if she should write a thriller for teens next, or a small-town romance series? Interestingly, the first book in that romance series is actually done already.
However the answers were a 50-50 split.
"I guess I have to make my own decision," she said with a smile.
She is not going to slow down any time soon either.
"I'm happiest when I'm writing," she said, admitting it is a lot of hard work. "It's so fun to see something come together."
People have also told her that her stories evoke emotions whether laughter, tears, or something else.
"It's just amazing that you can do that with your words and your imagination," Bohnet said.
Anyone interested in more information can visit susanbohnet.com.