Stokes nominated for three Country Music Alberta Awards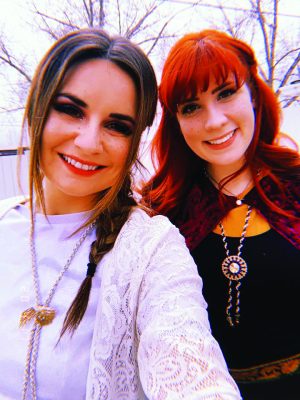 By Rob Vogt, Local Press Writer
Stavely singing sensation Mariya Stokes continues to make waves on the music scene, recently garnering three Country Music Alberta Award nominations.
The award nominees were announced by livestream on Jan. 5 where Stokes received nominations for Horizon Female Artist of the Year, Interactive Artist of the Year, and Songwriter of the Year for "Christmas, Arizona".
"2020 was a really strange year," Stokes said in a phone interview on Jan. 8. "It was nice to get that acknowledgement.
"It was really nice to be acknowledged by the music community of Alberta."
The nominations were announced by Carolyn Dawn Johnson and Gord Bamford.
Johnson is a role model of Stokes'.
"It was really cool to hear my name come out of her mouth," Stokes said.
The Horizon Artist of the Year is for emerging performers, focusing on artists who have made a mark in Alberta but still not branched out nationally.
The Interactive Artist of the Year is for connecting with fans and listeners via livestreaming and social media.
A large part of this nomination is a livestreamed weekly show Stokes hosted with her friend Allayna Van Diesen called "Fiyah with Mariya", with "Fiyah" pronounced like "Fire".
Stokes emphasized this nomination was as much Van Diesen's as her own.
"She was a big part of why we got nominated," Stokes said.
She added this is a special nomination because, due to the pandemic, she was unable to tour or perform in front of live audiences to connect with fans and listeners.
That made livestreaming and social media that much more important.
The Songwriter of the Year is for her single "Christmas, Arizona", which has had an interesting journey on the airwaves and music charts.
The song is a solo write, meaning Stokes wrote it by herself, and is about the crazy things someone would do for love.
The idea came from a conversation Stokes had with a family friend.
He was buying a truck from Broken Arrow, Oklahoma and Stokes thought there was a song in there somewhere.
The song was released at the end of 2019 and finished in the top 70 on the Canadian Holiday chart, put there in part because it had "Christmas" in the title.
It was released again for Canadian country
radio, where it attracted some attention.
"It's kind of the little song that could," Stokes said.
So much so, Stokes was featured on Edmonton radio station CFCW as the Homegrown Country Music Alberta Spotlight Artist of the Month for December 2020.
"They're so supportive of Alberta artists," Stokes said.
The award winners will be announced on Feb. 28 in a virtual event, that will be livestreamed on the Country Music Alberta Facebook page.