Claresholm bull rider takes eighth at season opening event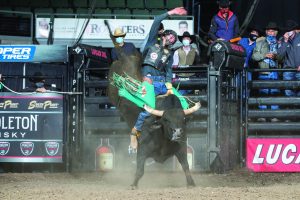 By Rob Vogt, Local Press Writer
It was a great way to kick off a new season as a Claresholm bull rider took eighth at the Professional Bull Riders season-launching event, highlighted by a second-place finish in the first round.
Logan Biever, the lone Canadian competing in the United States, travelled to Cedar Park, Texas for the Pendleton Whisky Velocity Tour's Cedar Park Chute Out on Jan. 15 and 16.
He exploded out of the chute in the opening round, turning in a score of 87.5 points on the bull "Wired Up", putting him in second place overall.
He finished just a point behind Leonardo Lima of Vale do Paraiso, Brazil, who turned in a ride of 88.5 points.
However Biever, 22, was in tough in the second and championship rounds.
He was bucked off by "Perfect Pistol" in 3.21 seconds in the second round.
Biever's score was still good enough to advance to the championship round where he was bucked off "V7" in 3.4 seconds.
Still, Biever finished eighth overall, earning four points in the world standings and a prize of $867.90.
He is tied for 34th in the Professional Bull Riders standings, 126 points behind first place.
The Professional Bull Riders Whisky Velocity Tour returns to action on Friday, Jan. 22 in Greenville, South Carolina at 8 p.m. Eastern Time.