Stavely singing sensation takes Horizon Artist of the Year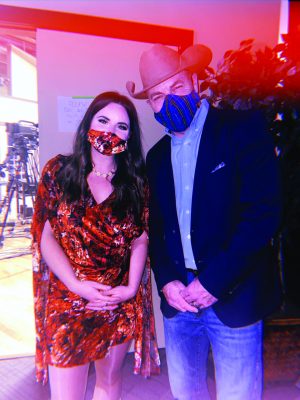 By Rob Vogt, Local Press Writer
She had to keep it a secret for a month.
When Stavely singing sensation Mariya Stokes was picked to co-host the Country Music Alberta Awards with George Canyon, a Canadian country music legend, there was a chance she would be announcing herself as a winner.
After all, she was nominated for Horizon Female Artist of the Year, Interactive Artist of the Year, and Songwriter of the Year.
That is exactly what happened.
Stokes won Horizon Female Artist of the Year at an online ceremony on Feb. 28 streamed on YouTube.
The awards were filmed a few weeks ahead of time where they were everyone social distanced and the band wore masks.
Stokes co-hosted the whole affair with George Canyon.
"It was awesome," she said, adding he was so experienced, down to earth, and kind. "I learned a lot just being in the same room."
Part of the co-hosting duties meant she found out she had won an award.
"I couldn't tell anyone for a month," she said. "It was really hard."
Still, she was excited.
"To be acknowledged was a huge honour," she said.
She was also thrilled about her other two nominations.
In the category of Interactive Artist of the Year she was nominated with her friend and roommate Allayna Van Diesen, primarily for their work on the online production "Fiyah with Mariya" (where fiyah is pronounced like fire).
"It was cool to be nominated alongside Allayna," Stokes said.
In fact, they watched the ceremony together in their living room.
In the category Songwriter of the Year Stokes was nominated for her song "Christmas, Arizona".
"That was pretty rad," Stokes said.
There was also another hometown link to the awards.
The dress Stokes wore when she hosted the awards was designed and made by Laurelle Holmes of Nanton.
"She custom made the dress for me," Stokes said.
Interestingly, Stokes and Holmes were part of a panel at Stavely Elementary School on careers in the arts about a year ago.
It was one of the last public events before the pandemic descended in 2020.
"I'm super grateful for (all) the hometown support," Stokes said.
Moving forward, she is working on a single that will be out in April.
"We're really hoping to play live," she said, adding they are waiting for COVID-19 restrictions to prevent the spread of the virus to be eased.
"Safety is my first priority," she said.
Stokes noted the pandemic has been tough on the music industry and the fans.
"I feel for the industry as a whole," she said, adding everyone is affected from the lighting, sound and production people to musicians, booking agents, businesses, venues and so much more.
"I'm just really looking forward to playing live again," she said.