Learn-a-Lot Playschool children, staff enjoying new building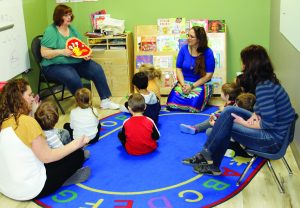 By Rob Vogt, Local Press Writer
Learn-A-Lot Playschool moved into their new building a month ago and the teacher said it's like night and day compared to the old building.
The playschool was located in the basement of the Claresholm town office until it moved into its new facility on Feb. 1 located just north of West Meadow Elementary School in the northwest corner of Claresholm.
"It's wonderful," said Teacher Carol Van Rootselaar.
There is much more open space in the new facility with good site lines where staff can see the children wherever they may be.
The facility has a focus area which was designed for minimal distraction.
There is also a toy area, kitchen, gross motor play area, therapy room, and washrooms for children and staff which are all handicap accessible.
The children's washrooms have toilets, sinks and towel dispensers that are all at the children's level of height.
Outside, they will have their own fenced playground.
"We're excited to design our own play area," Van Rootselaar said.
The entire playschool is bright, clean, and well lit.
Unlike the previous building, there are no stairs which makes the new playschool accessible to everyone.
Everything is all on one level making drop off and pick up easier for families.
"We can have kids and adults here with mobility issues, which is wonderful," Van Rootselaar said.
The playschool was also able to provide a lot of input into the design of the new building, balancing what they needed with cost. They ensured the facility was not bigger than it needed to be.
The result is a facility that meets the needs of students and staff and addresses the deficiencies they had in their previous location.
"It's night and day," Van Rootselaar said, adding the new facility has a whole different feeling.
By being located close to West Meadow Elementary School, supports such as the speech therapist and PUF support can move easily back and forth between the school and playschool. The location also helps families who may have children in both the school and playschool.
The playschool is also still beside the day care which offers the same benefits to families who may have children in both programs.
The playschool was able to move in stages so they could bring a load from the old building, organize it, bring another load and so on.
The new building has just enough storage to be able to do that as well.
"My favourite thing is that it looks welcoming," Van Rootselaar said, adding when families come to town they will see a bright new building.