Stavely school council named best in Alberta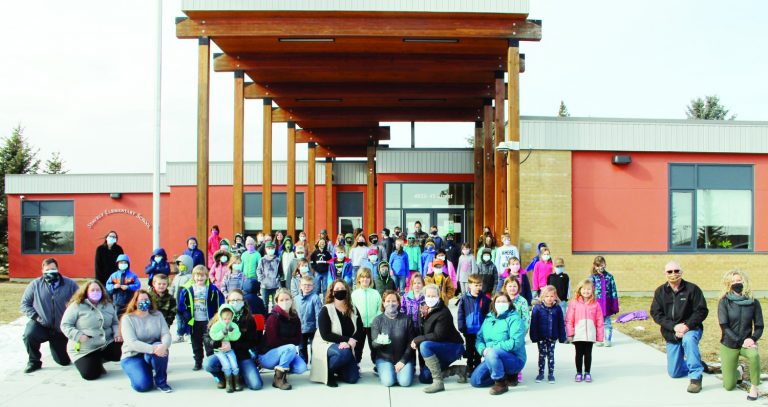 By Rob Vogt, Local Press Writer
It takes a whole village to raise a child, and in the case of Stavely Elementary School, a whole town to educate a student.

A large part of that is the tireless work done by the school council.
For all their efforts, the Stavely school council was recently recognized with the School Council Award of Merit by the Alberta School Council Association.
"You're the best school council in Alberta!" Principal Leanne Watson exclaimed at a socially-distanced gathering of students, families, staff, and school board trustees in front of the school on Friday, Feb. 26.
The School Council Award of Merit recognizes effective school council practices that have an identifiable impact on supporting student learning and school improvement at the school level, the district level or the provincial level.
The school council is made up of Carla Gimber, chair; Jill Cook, vice-chair; Kelty Sears, secretary; Jenn Kewley, treasurer; Jodi Husted and Cindy Pineo, hot lunch coordinators; and Amanda Vandenberg; Kayla Barrett; Addy Bolduc; Bev Allain; Katelynn David; Haley McEachen; and Denise Allerdings.
Watson explained the school council meets monthly as an advisory committee to the principal. They discuss and examine activities and ways to support the school. Parent council works hard to provide hot lunches to the students, fundraises for additional supplies for the school such as physical education equipment, field trips, passion project supplies, and so much more.
School council also volunteers endlessly in the school, Watson continued. Members are quick to throw their name in to help provide programming for students that honours the community but also takes students out and around Alberta.
Students regularly take in fine arts productions, ski trips, field trips, swimming lessons, kayaking, rock climbing and more. School council works collaboratively to provide funding so the school can educate the whole child – every student every day.
"They are an extremely focused, thoughtful, open-minded, community-driven group who never see obstacles, only opportunities," Watson said.
Afterwards Watson shared why she nominated the school council when she learned about the award.
"I wanted to paint a strong picture of what they do for the school," she said. "Our parent council deserves this award, there's no question in my mind."
Carla Gimber, school council chair expressed her gratitude as well.
"This award for Stavely parent council wouldn't be possible without the extraordinary support from the school staff, parents, volunteers, town and community. It is testament to the hard work over many, many years and councils' members. I hope we continue to build on this success for years to come," she said after the presentation.
School Board Trustees John McKee and Brad Toone also brought congratulations.
"The parent council has done a wonderful job over the years," McKee said. "My last word will be 'congratulations'."
Toone said Stavely school is always at the top of the list of schools they like to visit.
"Stavely is an amazing school and it starts with the parents," he said.