Couple restoring vintage house on Shelver Street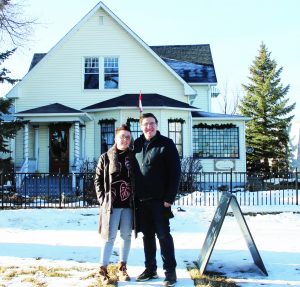 By Rob Vogt, Local Press Writer
It is a house that dates back to a time when Claresholm had street names, not just numbers.
Recently it had fallen into disrepair, raising fears it may be purchased and torn down to make way for a commercial enterprise.
But instead Rob and Britney Robertson bought the house located right next to the United Church on Second Street West and are breathing new life into it.
"We really wanted to restore an old house," Rob said.
The Calgary couple decided they wanted to buy a vintage house and restore it, casting a wide net from Olds all the way to the Crowsnest Pass.
Then they happened upon this particular house in Claresholm.
They took possession in December of 2019 and had to overcome some hurdles.
One was that, although it is a house, it is zoned commercial.
That comes from its long history.
Built in 1916 as a doctor's office which it was until the early 1940s, the building has also been a trucking business, bed and breakfast, photo studio, and more.
In order to comply with the zoning, the Robertsons have created an art gallery they call "Shelver and Finch".
It offers art by local artisans sold on consignment such as art, photography, hand-forged hooks and more.
"This is our reincarnation (of the house)," Rob said.
Research revealed Second Street West was called Shelver Street. One old newspaper article listed the doctor's office as Dr. McMillan, Shelver Street, while an article from 1916 revealed Dr. McMillan was having an office built. That is the earliest reference to the house.
So, that is where "Shelver" comes from. Britney said the "Finch" comes from seeing a finch in their shed.
Due to the pandemic, the gallery is contained to the sun room in the house, because it has its own separate entrances to the outside and to the rest of the house, so it can be contained in one room.
As they work to restore the house, they have uncovered history.
"Where stuff was," Rob said. "We're just peeling back layers."
As an example, they discovered where the original doctor's exam room was situated.
They have stripped off layers of wall paper, exposed the original ceiling, and found the original floor, made of 100-year-old fir.
When they first saw the floors, they were not in good shape, marred by water damage and pet stains.
"We thought we'd lose them," Rob said.
Instead, they set to work and spent 1.5 months sanding the floors bringing them back to life.
He also observed the entire house is made of fir. It doesn't shake or shift in the wind, something Rob is familiar with from growing up in Pincher Creek.
"It's as solid as a rock," he said of the house.
They have done all the renovations themselves, and this past summer, they spent a lot of time working on the house.
"I love to tinker," Rob said.
With the COVID-19 pandemic forcing the closure of many community facilities and activities, a lot of people were out for walks.
When they passed the Robertsons, many had stories of their own to share.
"Everyone seems to love this house and are happy to see us bringing it back," Britney said.
"The community has been so welcoming," Rob later added.
There is another attraction to this area for Rob Robertson – his family goes back four generations in Southern Alberta, specifically the Pincher Creek area.
His great-grandfather Robert Robertson, who Rob is named after, was an officer with the North West Mounted Police.
When he was discharged in 1903, he took a homestead in the Beaver Mines area. A mail-order bride from Ontario joined him as they built a log cabin and started a family.
They had three boys. The oldest eventually took over the family farm, while Rob's grandfather was the youngest. He enlisted in the Second World War, but hostilities ceased before he had to go overseas.
He would go on to live his whole life in Pincher Creek while his wife, Rob's grandmother Dolores Robertson, still lives in Pincher Creek.
Rob's dad was born there as well. He started as a farmer, but became a pipefitter and moved where the work took him from High River then to Cochrane where he still lives.
The Robertsons are looking for history on the house, and have been aided in their search by the library, but would like to hear any stories people may have.
"We'd love for anyone to contact us," Rob said.
Once the pandemic lifts, the Robertsons plan to have the house more open.
"This is a piece of local history," Rob said. "People are really curious.
"We'd love to share it with them."
Anyone who has stories about the house on Shelver Street they would like to share, can contact Rob and Britney Robertson by phone at 1-403-710-4420 or e-mail at shelverandfinch@gmail.com (no dashes or spaces).