Canada Post leases building for Granum post office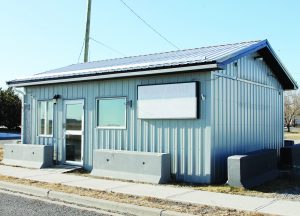 By Rob Vogt, Local Press Writer
Residents of Granum could be receiving their mail in Granum again, with news that Canada Post has leased a building from local building owners within the hamlet.
Representatives of Canada Post picked up the keys to the building owned by Barin and Vicky Beresford on Railway Avenue and Grey Street north of the bank on Jan. 19.
The lease was executed on Jan. 15 and runs to May 15 with the option of an extension.
The building is 24-feet by 20-feet and was once used as a liquor store.
"We've cleaned it right out and painted it for them," Vicky said.
The process started on Oct. 30, the day it was announced the post office in Granum was closing due to building concerns and residents had to pick up their mail at the Claresholm post office.
That same day, Barin went to the Granum postmistress and told her if Canada Post needed a temporary location, the old liquor store building was available.
The postmistress took that message back to Canada Post.
Soon after, the Beresfords received a call from a representative of Canada Post in Calgary who said they were interested in the building.
"So we sent him pictures and dimensions," Vicky said.
In fact, the Beresfords had all their dealings with a third party who looked after the lease arrangement between them and Canada Post.
According to the office of local Member of Parliament John Barlow, mail service is expected to return to Granum in the temporary location in four to six weeks. This will bridge the gap until a permanent location can be occupied in the fall of this year.