Claresholm bull rider takes 10th at season's second event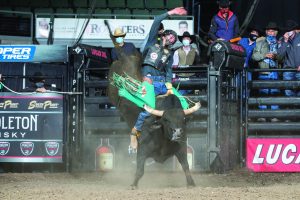 By Rob Vogt, Local Press Writer
A Claresholm bull rider continues to turn heads in the Professional Bull Riders, placing in the top 10 for the second straight event, highlighted by a fourth place ride in the first round.
Logan Biever, who is the only Canadian competing in the United States, travelled to Greenville, South Carolina for the Pendleton Whisky Velocity Tour's Greenville Invitational on Jan. 22 and 23.
He turned in a ride of 84 points in the opening round on the bull "Cojo", putting him in a tie for fourth place with Leandro Lima of Brazil, and Jake Lockwood of Volborg, Montana.
He finished behind Cody Casper of Washington who was first with 88 points; Seth White of North Carolina who was second with 86.5 points; and Marcel Procopio Pereira of Brazil who was third with 85.5 points.
However Biever, 22, was in tough in the second and championship rounds.
He was bucked off by "Little Beagle" in 3.07 seconds in the second round.
Biever's score was still good enough to advance to the championship round where he was bucked off "Chuck" in 2.64 seconds.
The results gave Biever 10th place overall, earning 1.33 points in the world standings.
He is now tied for 47th in the Professional Bull Riders standings, 128.17 points behind first place.
Pereira, who was third in the opening round 1.5 points ahead of Biever, went on to win the event.
The Professional Bull Riders Whisky Velocity Tour returns to action on Friday, Feb. 19 and Saturday, Feb. 20 at Rupp Arena in Lexington, Kentucky.