School celebrates grad with individual ceremonies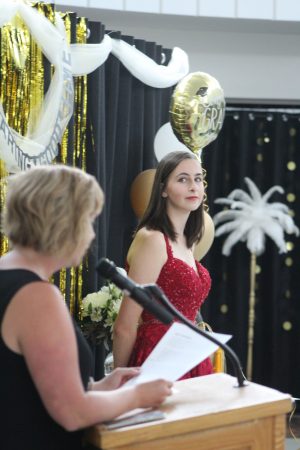 Willow Creek Composite High School could not be deterred by the COVID-19 pandemic that has cancelled classes since March, and went ahead with a unique graduation ceremony.
It was a little different this year, as grads had individual ceremonies with just close family in attendance on June 23 and 24.
There were still most of the same elements of grad, they were just on an individual basis, starting with hand sanitizing at the door.
There was still the walk in through the decorated "Roaring 20s" theme to music chosen by the grad committee, a personalized speech of memories from staff members read to each grad by a staff member, any awards announced by Principal Jackie Kark, and a prophecy prepared by their peers and read by Kark.
The grads put on their own mortarboard, sometimes with help from a parent, and put on their own honour roll cord and medal.
Grads put on their WCCHS 2020 face masks, something to commemorate the strange year this was.
They also received grad bags which held their "diploma", honour roll medal and certificate, the USB of all the virtual speeches, the face mask, and any award envelopes.
Photos were taken by Lauren Billey with family and friends. Some of the photos were also "silly" opportunities to hold humorous signs and make "faces". There were also socially distanced photos taken with grad and staff members if the grad chose.
Outside, the grad was able to take home their sign from the front lawn.
Awards were presented, individually, to:
• Highest credit award, Ryan Oldenkamp;
• Amy Berg Jennings award, Daniel Schuepbach and Bailey Gustman;
• CUPE award, Ethan Perry and Mapalo Chisanga;
• Grad Imagine Award, Jenna Nelson and Adion Vandenberg;
• Ultimate Cobra Award, Daniel Schuepbach and Bailey Gustman;
• Lloyd Cavers Leadership Award, Daniel Schuepbach;
• Lucy Clifton (Bedingfield- Wehrfritz) Scholarship, Vanessa Suddard;
• Kaye Fisher Medical Award, Jenna Nelson;
• Lisa Baptie Award, Jacci Wicks and Nadine Thyssen;
• Honour grads, Nadine Thyssen; Adion Reed Vandenberg; Bailey Ann Gustman; Emily Grace Toone; Debby Jovanka;
Madi Macaulay; Samuel Jupp Morton; Daniel Walter Schuepbach; Jordyn Madeline Nicole Wallace; Paige Bridget Morrison; Jenna Leigh Nelson; Katie Lynn Nickerson; Edison John Patrick Bray; and Jaclyn Myra Dianne Wicks;
• Valedictorian, Nadine Thyssen;
• Senior High female athlete,
Madison Macaulay;
• Senior High male athlete, Jackson Wright; and Ethan Perry;
• Senior High male athlete honourable mention, Daniel Schuepbach.