Old Fashioned Christmas a week-long event this year
By Rob Vogt, Local Press Writer
Old Fashioned Christmas is back again this year, celebrating its 22nd anniversary, but it will look a little different.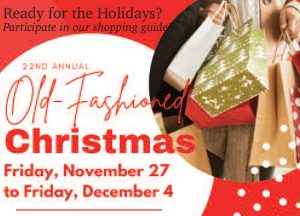 The Claresholm and District Chamber of Commerce and the Claresholm Local Press, who organize Old Fashioned Christmas, have decided to make it a week-long event instead of a one-night affair, starting on Nov. 27 and running to Dec. 4.
Amanda Zimmer, chamber president, said they decided to extend Old Fashioned Christmas to a week because of the new realities.
They will not limit activities to a short time frame so there are no large crowds in stores.
Moreover, many of the usual Old Fashioned Christmas activities will not take place, such as the downtown bonfire, wagon rides, beef on a bun, or carolling, because they could not comply with the health guidelines to prevent the spread of the COVID-19 virus.
However there will still be some old traditions and a few new activities.
The annual Christmas tree lighting will take place in the downtown parking lot at 6 p.m. on Friday, Nov. 27.
The tree will be lit by Shannon Clay, the 2019 citizen of the year.
New this year, the Welcoming Claresholm Committee will be hanging international Christmas decorations on the tree on Friday, Nov. 27.
Also new this year, are some other additional events.
The Willow Creek Ministerial Association will be handing out Christmas goodie bags and having Christmas music playing also on Friday night, Nov. 27.
The Claresholm Fire Department will also be on hand selling their calendars.
Proceeds from the sale of the calendars will go towards the purchase of rope and low-angle rescue equipment which supports the department's level of service as found in the intermunicipal fire services agreement.
Most retailers will offer weekly specials or daily deals featuring different items through the week.
Photos with Santa will be put on as a fundraiser by the Skye-Anna School of Highland Dancing on Saturday, Nov. 28, from 1 p.m. to 4 p.m. at the North and Company building.
People will need to pre-book their photo op with Santa by calling 1-403-601-3434.
Photos are $10 apiece.
Zimmer invites everyone to enjoy Old Fashioned Christmas.
"It's a great way to kick off the holiday season and support local," she said.
People are also encouraged to check out the "Old Fashioned Christmas" event page on Facebook for updates and more information.