Local powerlifting team sets records, wins medals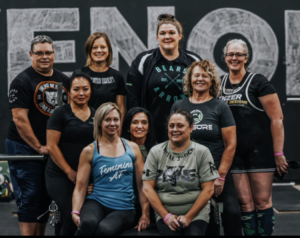 By Rob Vogt, Local Press Writer
A team of powerlifters, who train at a gym in Nanton, recently had a successful meet in Edmonton, setting national and world records and coming home with a healthy harvest of medals.
They travelled to Evolve Strength in Edmonton on Nov. 7 and 8 for Shell Shock 5, a charity event in support of the Canadian Armed Forces.
"All our lifters did extremely well," said Leslie Gurr, who along with Jennie McMasters coaches the team.
The results were:
• Brenda Helmer won her class and set two national records;
• Lana Perron won her class and set four national records;
• Trina Hampton won her class and set four national records;
• Liz Robichaud won her class and set four national records;
• Brittany Johnston won her class and set four national records;
• Hayden Hampton, who is 12 years old, won for the deadlift-only class and set a national record;
• Leslie Gurr won her class and set four world records.
The coach noted the event was held taking the necessary precautions to prevent the spread of the COVID-19 virus.
Everyone was masked. Only the lifter was unmasked while they lifted. Once off the platform they were masked again.
Powerlifting is a strength sport consisting of three attempts at maximal weight on three lifts: squat, bench press, and deadlift.
In the squat, the lifter lowers their hips from a standing position and then stands back up.
In the bench press, the lifter presses a weight upwards while lying on a weight training bench.
In the deadlift, a loaded barbell or bar is lifted off the ground to the level of the hips, torso perpendicular to the floor, before being placed back on the ground.
There are three judges who are not as concerned about lifting as much as the lift being deliberate, slow and under complete control.
The team has four members from Claresholm, four from Black Diamond and 20 members from Nanton.
There are between five and six meets throughout the year and Gurr and McMasters take a team of between seven and 15 to each meet.
The youngest lifter is 12 and the most senior is 67 years of age.
The team has been extremely successful over the past few years as well.
"We've got several world records," Gurr said.
She and McMasters train their members for strength but also to be competition ready.
Their next meet will be the Canadian Nationals in Victoria at the end of November.