Intermunicipal emergency services agreement approved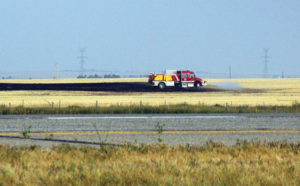 Claresholm town council has approved an intermunicipal fire services agreement that provides a standard level of service and consistent relationships across the Municipal District of Willow Creek region.
At a recent meeting, council was updated on the situation by Marian Carlson, the town's chief administrative officer.
She explained over the past few years the chief administrative officers and fire chiefs within the M.D., Nanton, Stavely, Fort Macleod, and Claresholm have been working to develop an updated fire services agreement.
The final draft represents a comprehensive agreement which provides for a standard level of service and consistent relationship across the region.
The agreement includes a defined level of service, which includes an established level of training in required equipment; and a description of emergency services, including training provided on an intermunicipal basis.
It establishes a fire chiefs committee including purpose and responsibility.
It also establishes an emergency services committee to include the chief administrative officers and fire chiefs to review, provide oversight of the fire chief committee, and administration of the agreement generally.
It establishes an emergency services budget, parameters, and process.
It also establishes a cost-share formula for agreed-upon training and equipment purchase, maintenance and replacement.
It gives liability and indemnification, and also provides for the response map that outlines the emergency services response area for each fire department.
Also attached to the agreement is a complete inventory of all emergency services equipment as it stands today, which is 149 pages long.
"This has been an on-going process for a number of years," Carlson said. "I have to commend the CAOs and the fire chiefs for each of the municipalities for the effort that they put in to coming to this agreement.
"It was not an easy process but I believe that we've got a great agreement."
The agreement was presented to the Intermunicipal Collaboration Framework committee, which consists of members from each municipality within the M.D., who recommended it be ratified by all member municipalities.
Council then approved the agreement.
Shortly after The Towns of Claresholm, Stavely, Nanton, Fort Macleod and the M.D. of Willow Creek issued a joint statement that they all had
approved the agreement, bringing it into effect.