Stavely Royal Purple donate funds for garden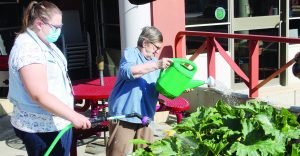 The Stavely Royal Purple did not let the COVID-19 pandemic stop them from raising funds to make the lives of seniors a little brighter.
The Royal Purple usually have a seniors' tea at the Stavely Community Centre in June, which attracts busloads of seniors from various facilities in the area, but that was cancelled to prevent the spread of the virus.
Consequently, the Royal Purple donated $200 to the Willow Creek Continuing Care Centre for their garden.
Recreation Therapist Brittany Wilton said the funds were used to purchase a planter, soil, seeds and starter plants.
The seeds were planted by the residents and have taken root, now producing zucchini, beets, beans, cucumbers, pumpkins, and tomatoes.
The produce will be used in the meal club at the continuing care centre, which is just something a little different every couple weeks.
"The residents can enjoy fresh produce," Wilton said.