Zombie Walkers to roam streets this Friday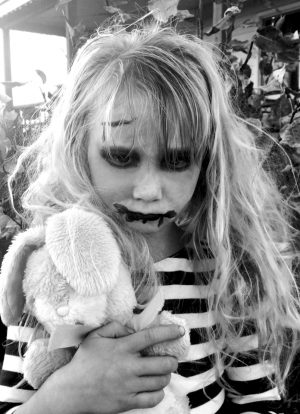 Beware the un-dead
By Rob Vogt Local Press Writer
The streets of Claresholm will come alive with the undead when the sun sets on Friday the 13th. The Claresholm Local Press, Claresholm and District Family and Community Support Services, Your Dollar Store with More, Gratitude and Tim Hortons are putting on the fifth annual Zombie Walk this Friday night, Sept. 13, with all proceeds going to KidSport Claresholm.
"It's going to be fun and exciting this year," said Amanda Zimmer, general manager of the Local Press and one of the organizers. "I'm looking forward to it."
Registration starts at 6 p.m. in downtown Amundsen Park, where participants will be asked to sign a waiver form. However, participants are encouraged to pre-register at the Local Press, FCSS, Your Dollar Store with More, and Gratitude, to avoid line-ups the day of the walk.
There is no registration fee, but a suggested donation of $10 per person or $20 per family is welcome, with all proceeds going to KidSport Claresholm.
The Zombie Walk is set up differently this year. As people register, they will receive a group number. Participants will then be sent out in heats of 10 people to walk the route. Along the way there will be games at each corner where walkers turn, run by volunteers who also will be directing traffic.
Zombies will head south on Third Street to 46th Avenue West. From there they will turn east for one block, then head north on Second Street West, and head back east on 49th Avenue to Highway 2 north. All walkers will stay on the sidewalk by the highway. They will then come down 50th Avenue. This year, instead of staying on the same side, walkers will cross the street at the lights to the north side of 50th Avenue. At Gratitude there will be a special surprise.
"If you want something scary, you can go through the alley way," Zimmer said.
Otherwise walkers can keep going on to Amundsen Park. Awaiting them in the park will be sparkle tattoos for $5, music, and more. There will also be hot dogs for purchase for $2, smokies for $3, and coffee and hot chocolate for $2 with all proceeds going to KidSport.
The first heat starts at 7 p.m. Just before that, prizes will be awarded for the best dressed family. Make-up artists will also be available doing face painting in the back of the Local Press starting at 5 p.m. so you can get your best zombie on. Participants can dress as zombies or in their favourite Halloween costumes too.
"The weather looks great so come out Friday night," Zimmer said.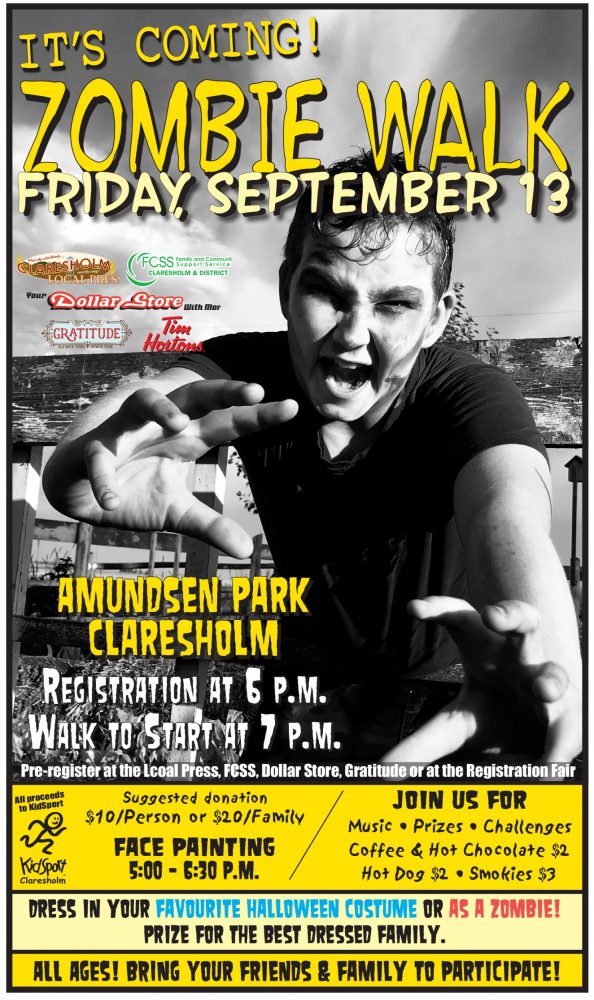 Anyone interested in more information can contact Amanda Zimmer at the Claresholm Local Press at 403-625-4474.