Town to hold plebiscite on borrowing bylaw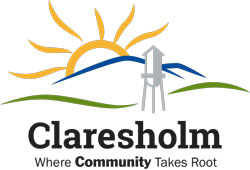 By Rob Vogt, Local Press Writer
Residents of Claresholm will go to the polls to decide whether the Town of Claresholm should borrow $2.8 million for the purpose of constructing a community multi-use facility.
At its Aug. 12 meeting, town council agreed to have a plebiscite on Monday, Sept. 30 at the Claresholm Community Centre.
The plebiscite will ask residents if they support borrowing $2.8 million for the purpose of constructing town-owned buildings to create facilities for administration, day care, playschool, and other users, and community space referred to as multi-use community buildings.
Council was to hear a report from Marian Carlson, the town's chief administrative officer, regarding a petition submitted to the town requesting a plebiscite be held on the proposed borrowing bylaw.
Before discussion began on the item, Mayor Doug MacPherson suggested the town go ahead with a plebiscite in any event.
"Put this question to the town and clear this off once and for all," he said.
"I agree," said Coun. Brad Schlossberger.
Coun. Mike Cutler concurred, suggesting the decision be put in the hands of the people.
"I see nothing wrong with it," he said of a plebiscite.
MacPherson said the correct information can be put out and the people can decide.
Coun. Lise Schulze disagreed, noting there is a cost to a plebiscite and open houses have been held providing the public with information.
Coun. Kieth Carlson said they have to see where the community will be in 25 years.
"We need room to grow," he said.
That means working to get services in place such as a day care and playschool that have space to grow.
MacPherson pointed to Pincher Creek where the day care was left to fall apart and eventually closed. It lead to the loss of businesses, and the town now opening a day care.
He also said he wanted the half-truths stopped.
"I'd like to see the air cleared," he said. "Get the public's opinion."
Council then set Sept. 30 from 10 a.m. to 8 p.m. for the vote at the community centre.
An advanced poll was set for Thursday, Sept. 26 at the community centre, and institutional polls will be set up on Sept. 30 at the Claresholm General Hospital, Willow Creek Continuing Care Centre, Porcupine Hills Lodge, Cottonwood Village, Heritage Manor, and Parkside Manor.
Karine Keys was appointed chief returning officer and Marian Carlson and Blair Bulloch were appointed as alternate chief returning officers.
Everyone on council voted in favour of these motions except Schulze who voted against them.
Marian Carlson then made her report on the petition she received on Aug. 7.
According to the most recent statistical information, the population of the Town of Claresholm is 3,780 people.
For a petition to be sufficient, the signatures of 10 per cent of electors is required which, in this case, equals 378 signatures.
The petition submitted contained 485 signatures. However, five were excluded. Four were incomplete with the lack of an address and one was not witnessed. Still, the petition had 480 valid signatures, and was therefore sufficient.
The Town of Claresholm will also be holding an open house to discuss the multi-use community building and the recycling program to the Claresholm Seniors' Drop-in Centre on Sept. 19 at 6:30 p.m.