Nominations now open for business awards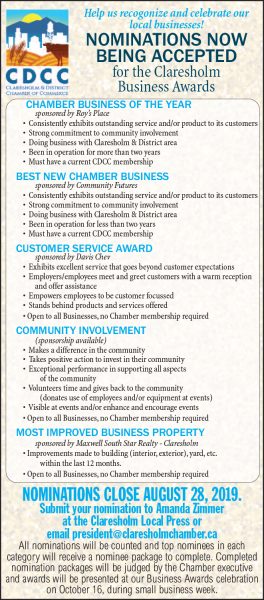 By Rob Vogt, Local Press Writer
The business awards are back and the Claresholm and District Chamber of Commerce is accepting nominations.
"We want to celebrate the business community's achievements and recognize all the hard work that is done by our businesses," said Amanda Zimmer, president of the chamber of commerce.
New this year is the best new chamber business award.
Businesses are eligible who have been operating less than two years and have a current chamber membership.
Also new this year is the most improved business property.
Last year, this category was broken into two awards – most improved commercial property and most improved industrial property.
This year, these awards have been combined into one award which will recognize improvements ranging from interior and exterior renovations to yard improvement and more.
The other awards are the chamber business of the year; customer service award; and community involvement award.
The chamber will be accepting nominations until Aug. 28.
The top nominees in each category will receive a nomination package to complete then return to the chamber.
The chamber executive will then review these packages and select winners based on them.
Those winners will be announced during Small Business Week at the chamber's business awards celebration at Putters in the Bridges at Claresholm Golf Club on Oct. 16.
There will be no guest speaker this year, but instead entertainment by magician Chris Lovely.
He will be doing close-up magic such as card tricks and sleight of hand during the networking hour before dinner.
After dinner, the awards will be presented and Lovely will be performing a magic show for between 45 and 60 minutes.
Each award is being sponsored, and the chamber is still looking for a sponsor for the community involvement award.
Zimmer encourages everyone to nominate a deserving business for one of the awards.
"It gives businesses a chance to be recognized and feel a sense of pride," she said.
Anyone interested in more information or nominating someone can e-mail Amanda Zimmer at president@claresholmchamber.ca (no dashes or spaces), or submit a nomination to her at the Claresholm Local Press.