Prom royalty, Miss Calgary team up to raise funds for Operation Smile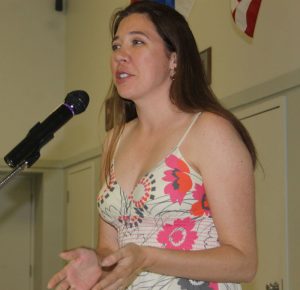 By Rob Vogt, Local Press Writer
A child is born every three minutes in the world with a cleft lip, where there is a gap where the nose and lip meet, or a cleft palate where there is a gap in the soft or hard palates.
This condition can cause a variety of problems from hunger, thirst, and malnutrition because there is no proper seal; to difficulty in speech; and the social stigma people can face.
Operation Smile aims to provide free surgeries for people around the world with cleft lips and palates to alleviate these issues.
On Saturday, July 13, Raman Sawhney, Miss Calgary 2019 and the prom royalty of Willow Creek Composite High School worked together to put on a fundraising car wash and bottle drive, wrapped up with a silent auction and night of information at the Claresholm Community Centre.
In the end, the day raised more than $700.
"That exceeded my forecast by 50 per cent," Sawhney said. "Awesome job."
She explained she initially came to Claresholm to help with the junior prom as well as act as one of the judges.
There has been a long partnership between Miss Calgary and the junior prom.
What really impressed Sawhney was the leadership opportunities prom provides.
"It's really about future ambassadors for our world," she said, adding she commended the commitment shown by students.
Rajan Sawhney is a Calgary MLA, the minister of community and social services, and Raman's mother.
She said it takes about $240 for one surgery to help one person with a cleft lip or palate.
In Canada, she continued, universal health care is taken for granted, but that is not so everywhere.
Miss Calgary is about giving back, and Operation Smile is one way of doing that.
"It gives you a global perspective," she said.
Raising funds to help children receive the treatment makes a big difference.
"You have saved that child's life," she said.
Bailey Gustman is this year's prom queen.
"It was really great working with you," she said to Miss Calgary.
Gustman went on to explain how the prom royalty have learned valuable skills and volunteered for various community organizations and events, but this is the first year they have partnered with a group outside Claresholm.
"I hope we've made an impact greater than our little community," she said.
Lisa Harrigan is the director of Canadian Beauties, who puts on Miss Calgary and other events.
When she took over as director, one of her priorities was to continue the partnership with Claresholm.
In fact, in 2006 when she was Miss Calgary, she too judged junior prom.
"That left a lasting memory in me," she said.
Now, not only has Sawhney come back to judge, but chosen to do her fundraiser in Claresholm.
"I'm glad to see everything come around full circle," Harrigan said.
She noted the Canadian Beauties program values volunteerism.
"What this process does is creating role models," she said.
The keynote speaker for the evening was Kelly Raymond, a certified child life specialist and longtime volunteer with Operation Smile.
She went on her first mission in 2012, and has been on seven Operation Smile missions since, the latest in April in Madagascar.
Operation Smile started in 1982 by a surgeon and his wife who was a social worker, who saw how prevalent cleft lip and palates were.
Since then, medical missions have been established that last eight to 10 days each including three to five surgery days, one to two screening days, and a patient announcement day.
Screening involves a team of professionals including surgeons, nurses, speech therapists, pediatricians, child life specialists and more. Unfortunately, some patients are turned away, often because they are malnourished. Those patients are then enrolled in a nutrition program.
Raymond is a child life specialist who teaches children about medical procedures to reduce fear and anxiety.
Those chosen are then revealed on patient announcement day.
Surgery days are 12 to 13 hours long, with three surgeries often going on side by side in the operating room.
After surgery, patients and their families see their new smiles for the first time.
"It's always emotional," Raymond said. "It's a beautiful moment."
Sawhney then concluded the event, by noting her goal was to raise enough money to give 15 children new smiles.
"I've just met that goal after today," she said.