Bust of women's rights pioneer done; unveiled in October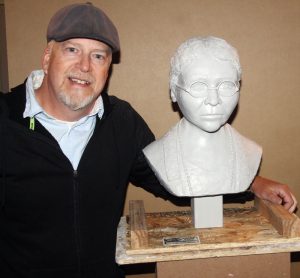 By Rob Vogt, Local Press Writer
The bust of a pioneer in women's rights in Canada is completed and is set to be unveiled in October in Claresholm.
Louise McKinney was one of the Famous 5 who fought for the rights of women across Canada, succeeding in finally having women recognized as persons under the law.
She would go on to become the first woman ever elected to a legislature in the British Empire, representing Claresholm, and is buried in the Claresholm Cemetery.
The Claresholm and District Museum has partnered with the United Farmers of Alberta Historical Society in an exhibit on women and agriculture in general, and Louise McKinney specifically, including a bust of her head that was transported to Claresholm on July 4.
The bust was created by Calgary artist Mark Cromwell, who dedicated hundreds of hours to the project.
"I feel like I got to know her from researching her," he said from his studio in Calgary. "It was quite an honour to be chosen.
"She's a very important part of Claresholm history and Alberta history."
He had done work for the UFA Historical Society before, and was happy to give them a quote for this project, ending up the successful bidder.
"The United Farmers of Alberta Historical Society was quite excited about the project," Cromwell said.
He got the go-ahead earlier this year, around late March-early April, then started by researching McKinney.
However, there aren't a lot of images of her around.
"That was the toughest stage," Cromwell said. "To find enough images to be confident to do a likeness."
But he did find some photos, and started drawing Louise McKinney, realizing there were not going to be a lot of photos.
"They were much more scarce (than he thought)," he said.
Another issue was the images were of McKinney at various ages in her life. He had to pick an age, and went with how she looked in middle age.
"The more I worked with her, the more comfortable I felt with doing the likeness," Cromwell said.
He gleaned a lot of information about her and the particular time period to aid in his efforts.
The next step was building an armature, which is a metal framework on which a sculpture is molded with clay or similar material.
The inside of the bust is foam and, once that was on, he worked on the skull.
His sister used to be a forensic archaeologist who did work in skull reconstruction, so he picked her brain, and actually used pins to map out the shape of the skull kind of like forensic scientists do.
Now, he had to come up with a material to make the actual face with.
Because the bust will be in a glass case, he could save the expense of bronze and find another material.
His late father was an artist and art teacher, so he used one of his secret recipes for a fibre-glass-like material.
That material gets quite hard but, when it is still setting, is malleable and easier to shape.
The coating applied over the finished bust is a new product of pigment mixed with polyurethane.
Overall, the project took about two months to complete. Cromwell would work on it, wait for it to set, and work some more.
The result is a bust rich in detail.
It is 20 inches tall and 12.5 inches wide, with the skull just shy of nine inches.
The eyes are striking, especially when someone steps right in front of the bust.
"I'm hoping the viewer will feel that – she's looking at me," he said.
Cromwell made McKinney's glasses separately, using a bit of wire, then placed them on her face.
He also used sections of a comb to create McKinney's hair, based on research he did on hairstyles of the era.
Because there was no colour to utilize, he created various textures to differentiate the clothing, skin, hair, eyebrows and other features. There is also intricate beading on the necklace.
The Louise McKinney bust will be officially unveiled to the public in an event on Oct. 5 at the museum.
Cromwell may have another commitment at the time, but is going to try and attend. If not, he will still pay a visit to the museum.
"I'm excited to see her," he said.