Portrait on back of $10 bill has special meaning for local woman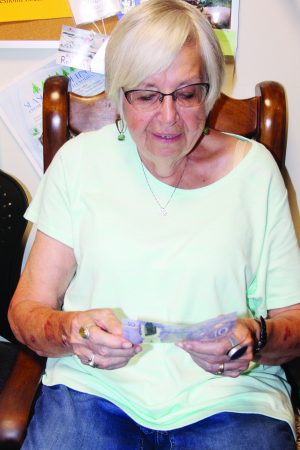 By Rob Vogt, Local Press Writer
Every time Irene Gladstone looks at a $10 bill with the portraits of four Canadian human rights leaders, she feels a source of pride.
One of those portraits is of Jim Gladstone, who was her father's cousin, but who she affectionately referred to as Uncle Jim.
The commemorative $10 bill was launched to honour Canada's 150th anniversary, and contains the portraits of four groundbreaking parliamentarians.
Jim Gladstone's inclusion marked the first time an Indigenous Canadian appeared as a portrait subject on a Bank of Canada note.
According to the Bank of Canada, Gladstone, whose Blackfoot name is Akay-na-muka, meaning "Many guns," committed himself to the betterment of Indigenous peoples in Canada and, on Feb. 1, 1958, became Canada's first senator of First Nations origin.
In fact, when he spoke Blackfoot as part of his inaugural address, Gladstone was the first person to address either the House of Commons or the Senate in a language other than English or French.
When he was appointed to the Senate, Gladstone, like all Status Indians, did not yet have the right to vote. He advocated for this right, which came into effect on March 31, 1960 when the vote was extended to all Indigenous Canadians.
He also advocated for improved education, economic opportunities, equality and greater self-determination for Canada's Indigenous peoples.
"He was gentle with an iron backbone," Irene Gladstone said.
She saw that first hand.
When she was living in Edmonton, she would accompany her Uncle Jim to official functions when his wife was ill and unable to attend.
"I got to go," she said.
Consequently, she met a number of dignitaries including several Indian and Northern Affairs ministers including future prime minister Jean Chretien.
What struck her about her Uncle Jim was he was serious when needed, but not always.
"He was a lot of fun," she said. "He had a quirky sense of humour."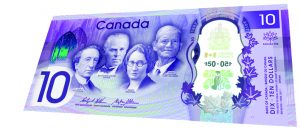 James Gladstone was born in May of 1887 at Mountain Hill, Northwest Territories. A member of the Kainai (Blood) First Nation of Alberta, Gladstone served in the Senate until the year of his death in 1971.  In acknowledgement of his significant contribution to the Senate and to Canada, a bronze bust of Senator Gladstone wearing a feathered headdress is displayed in the antechamber to the Senate in the Centre Block of Parliament Hill.
So, it was quite an honour when his portrait appeared on the $10 bill.
"It's really, really neat," Irene Gladstone said. "It was needed and well done."
She still smiles when she sees one of those $10 bills.
"Every time I get one, I think to myself, 'Hi, Uncle Jim'."