Olympian shares lessons with local swimmers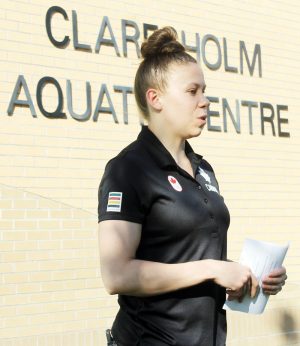 By Rob Vogt, Local Press Writer
Going into the 2016 Summer Olympics, in Rio de Janeiro, Canadian swimmer Rachel Nicol was ranked in the top 15 in the 100-metre breaststroke.
Yet when the smoke cleared, she had finished fifth in the world, turning in personal best times and making a lot of observers take notice.
Nicol, who is from Lethbridge, was at the Claresholm Aquatic Centre on July 31 to share just some of what she learned with about 50 people in attendance.
The 26-year-old swimmer started when she was four, has spent much of her time with the Lethbridge Amateur Swim Club, and is currently working on a master's degree at the University of Calgary.
Nicol said there are several coping mechanisms she uses to deal with the stress in swimming and being a student.
One is to set every-day goals to work to in practice and school.
"Work towards achievable things," she said.
Accomplishing something small is a little step in the right direction to get to the big picture.
It is important to have big goals, but realistic little goals get someone there.
A second strategy is recovery at the wall. That is calming down, taking a breath, and thinking about the next step.
It helps in a race or dealing with test anxiety.
A third strategy is to listen to coaches.
"These people have your best interests at heart," Nicol said.
When they provide instruction, write down what they say.
"Writing things down is a really big thing," Nicol said.
She also said that everyone can work hard, but it is not always enough.
"You also have to apply yourself," she said and whatever someone works on can slowly become a habit.
Nicol added it is important to reflect on the problem and challenge, and ask, "Did I do everything I could?"
Finally, she quoted an old adage: "Fake it till you make it."
At the Olympic trials she was really nervous, but pretended to be calm around the other swimmers. They thought she was calm and that helped her to be.
Nicol then talked about the benefits of swimming.
It teaches time management and organizational skills. No one is better organized than student athletes, she said, because they have to balance school, sport, sleep, eating and more.
Swimmers learn a really good work ethic, and the sport can help swimmers make a lot of friends.
Not only can a swimmer meet people they don't go to school with, but sometimes only other swimmers can understand what a swimmer is going through.
"Misery loves company," Nicol joked.
Another benefit is swimmers learn to communicate with a variety of different people of all ages.
"Communication, I can't stress enough, is important to learn," she said. "When things go wrong, it's bad communication."
Finally, being in a stressful situation puts in perspective what is actually stressful and what is not.
Overall, Nicol learned a lot of different lessons.
It is important to have people around you who support you and have common goals.
Nicol encouraged swimmers to survey the people around them every so often to see if they are helping or if they are negative.
"If it's not working for you, find something that will work for you," she said.
And, she added, talk about it with someone.
Distractions can also be a good thing.
Before a race, Nicol will chat with other racers, and listen to her music to take her mind away from the stress.
Communication is another important part.
"Don't bottle up all your emotions," she said. "It's good to talk to someone."
Nicol said she has been working with a sports psychologist for years who she can communicate with.
She urged swimmers not to compare themselves to others either. Instead, work with what you have and control the controllable.
Swimmers should swim for themselves, not for other people.
Nicol also pointed out swimmers are not alone. They are all working towards the same goals, sharing similar experiences.
She concluded by noting she has been with the Lethbridge Amateur Swim Club for 14 years. She likes the small club better because there is more individualized attention; it is less busy; and they have a lot of fun.
She noted the Claresholm Krakens swim club has a lot of fun, and urged them to keep enjoying it.
"Make sure to keep that fun factor there," Nicol said.
Moreover, a small team becomes a family.
"You feel like there's an army behind you supporting you," she said.