Museum to host 50th anniversary celebration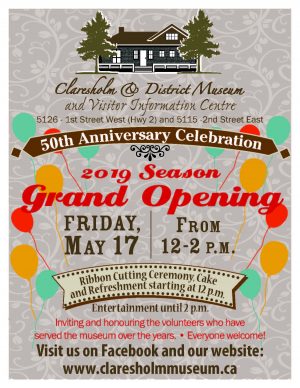 By Rob Vogt, Local Press Writer
If you have ever volunteered at the Claresholm and District Museum, please consider this your invitation to their 50th anniversary celebration.
The museum will be celebrating its 50th anniversary on Friday, May 17, with an event starting at noon.
"We want to celebrate with as many of the volunteers who have contributed to the success of the museum over the 50 years," said Bill Kells, executive director of the Claresholm and District Museum.
Dignitaries from the municipal, provincial, and federal levels of government have been invited to bring greetings.
There will also be a ribbon cutting to symbolize the opening of the museum for the season, as well as a officially cake cutting to commemorate the 50th anniversary.
Refreshments will be available and everyone is encouraged to mix and mingle.
Entertainment will be provided by the B-40 Trio, a local band.
Kells said the museum is trying to invite as many volunteers who have contributed over the past 50 years as possible, but cannot contact everyone.
That is why he is issuing an open invitation to anyone who has volunteered over the last 50 years.
"We want them to join us in the festivities," he said.
Anyone interested in more information, can contact Bill Kells at 403-625-1742.