Long-time community contributor, artists, sculptor passes on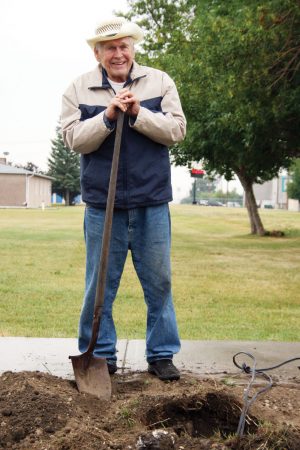 By Rob Vogt, Local Press Writer
If you drive around Claresholm, you will quickly see that Bill Erickson's finger prints are all over the community, whether at Centennial Park, the museum or other landmarks.
In fact, it is Erickson who built some of those landmarks.
The long-time artist, sculptor and community promoter passed away in Lethbridge recently, but not before his daughter Amy Nadeau (née Erickson) wanted to pay tribute to her father.
"Dad loved Claresholm and spent his golden years there with my wonderful, sweet, kind, loving mom of 70 years," she said in her eulogy to her father.
Bill and his wife Namie bought a ranch southwest of Claresholm in 1976, where his son and family lived. Bill and Namie built their first house in Claresholm in 1983 and moved there to be close to the ranch.
They later bought some land by the golf course, planned and designed duplex-type homes for seniors in a park-like setting. This became Chinook Estates.
Since then, Bill created a variety of landmarks.
He came up with the memorial concept for the Harvard Trainer and Claresholm Airport Memorial, that is the big yellow plane in Centennial Park.
East of that is the Rancher's Memorial, which includes a drum with dozens of local cattle brands, and a hitching post.
On the other side of the Harvard, to the north, is a time capsule buried in the year 2000, not to be opened until Canada Day, 2050. It includes essays from 200 students from the Claresholm area, 2,000 coins, a bronze buffalo and bronze arrowheads.
North of that is a sun dial, because as it says there is "nothing without sun."
His final contribution to the community landscape came shortly after the penny was abolished. Erickson created a tribute to the penny, burying a pressure cooker filled with pennies, not to be dug up until the year 2100.
He was always an artist as well, creating metal statues of buffaloes and bears, carving figures of wood, and much more.
One of his most unique pieces is a porcupine he made by hammering hundreds of nails into a piece of wood, and sharpening them to different heights to create texture.
Some of that work was displayed in a venture he was part of with several other local artists called simply "The Gallery". It was just that, a gallery displaying local art, located in the former Kountry Kitchen Café building downtown.
His work extended beyond Claresholm, as he created a sun dial for Elliston Park in Calgary and contributed some art.
Erickson also was involved with the local chapter of Ducks Unlimited and was a director of Head-Smashed-In Buffalo Jump for more than 10 years.
"His life was really full and well lived," his daughter Amy said when she stopped by the Local Press on May 2. "He had a positive energy.
"He had a real zest for life."
Bill Erickson died on April 24 in Lethbridge.