High school football Willow Creek Cobras role to zone championship over Taber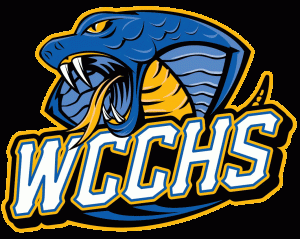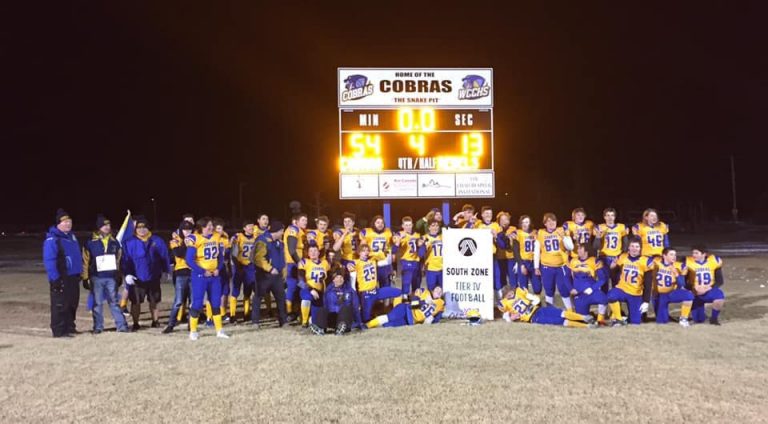 By Tim Bryson Coach of the WCCHS Cobras
The Willow Creek Composite High School Cobras rolled to their ninth South Zone Tier-4 championship with a convincing 54-13 win over W.R. Myers of Taber last Friday, Nov. 1, before a large and lively crowd at the Snake Pit.
Once again, the Cobras got off to a fast start on offense, as Jackson Wright hit Brad Van Herk for a 53-yard touchdown strike on the first offensive play. The Cobras stretched the lead to 13-0 on the next series, as Ethan Perry scored the first of his five touchdowns with a 29-yard run. That play came on the heels of a 37-yard run by Wright. After a penalty and a fumble forced the Cobras to punt, they struck again, as Wright dumped a short pass off to Perry, who scampered in from 50 yards to stretch the lead to 20-0 at the end of the first quarter. The onslaught continued in the second quarter, when an excellent punt return by Van Herk gave the Cobras excellent field position, before Chad Meek rumbled in from 26 yards out. The Rebels got on the board, courtesy of a couple of blown coverages and a late-hit penalty.
However, the Cobras stormed right back, going 90 yards on eight plays, before Perry scored from 10 yards out. The key plays on this drive were a 36-yard run by Wright on second and 16, and "jet" sweep runs by Tristen Martin of 15 and nine yards. With one more kick at the can before the half, the Cobras struck again, as a 24-yard reception by Perry set up short runs by Meek and Wright before Meek scored from six yards out to stretch the lead to 40-7 at the half. The third quarter saw more of the same, as the run game continued to churn out yards. Perry had two more touchdowns on runs of 15 and 12 yards, the later on a broken field goal attempt that saw him use his full array of moves.
The Rebels scored late in the game to gain a measure of pride. The offence once again showed great balance. The run game ground out 329 yards on 27 carries, but nobody had more than Wright's 127. Perry had 83 yards on seven carries, while Martin picked up 50 on five carries. Perry had two receptions for 74 yards and a touchdown, while Van Herk had two receptions for 58 yards and a touchdown. Wright completed 5-of-8 passes for 157 yards and two touchdowns. In all, the offence churned out 486 yards net offence This was the young offensive line's best game of the season by far.
They didn't not allow any quarterback sacks or negative yardage plays, nor did they take any illegal procedure or holding penalties. The defence was solid much of the game, but did spring a few leaks.
Myers was able to run for 100 yards on 22 carries and throw for 93 more. Three sacks took the net total down to 179, with 124 of the coming on five big plays. Rylan Ramsey led the "D" with six tackles and some excellent work on kickoff coverage. Perry, Martin and Dan Schuepbach each had five tackles, while nose tackle Eliott Iwen had two sacks. Jaxon Douglas had another excellent game at defensive end, with a sack and a fumble recovery.
The kickoff cover squad, in particular, was outstanding in its work all night; they also got their sprint training in, as they had to cover 10 kickoffs. With the win, the Cobras finish the league regular season and playoffs with a 7-2 record and the number-one ranking in the province in Tier-4 ball. They start their tightrope walk through provincial playoffs with a quarter-final matchup against the Canmore Wolverines this Saturday, Nov. 9, at 1 p.m. at the Snake Pit.
Interestingly, this is a matchup between the last two provincial champions and the third year in a row these two teams have met in the opening round of provincials. Coach's notes: What a GREAT crowd on Friday. It was great having the fire department add their "two cents worth" whenever we scored. The concession was run by the good folks at Putters and will also be in operation for any further home games this season. Let's have another big crowd out Saturday afternoon.