Long-time stalwart of the Local Press passes away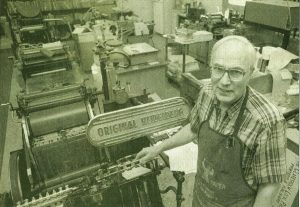 By Rob Vogt Local Press Writer
The Claresholm Local Press family has lost one of its patriarchs. Roy Pachal, who was a pressman with the newspaper for more than 45 years, passed away on the weekend at the age of 87.
His association with the Local Press goes back to 1953 when Pachal and his friend George Taylor had quit their jobs and hit the road in Taylor's 1939 Nash. They travelled through Canada, down to Mexico, up the U.S. coast to Vancouver and were headed back to Saskatchewan. However, their money was running out and they stopped along the way, looking for work. That brought Pachal to Claresholm and Gordon Neale, publisher of the Local Press. He told Pachal if he was good, he could stay. Otherwise, it was time to keep moving. Two and a half days later, Neale gave Pachal an pay cheque and told him he'd see him on Monday.
Pachal was a jack of all trades at the newspaper from selling ads, to writing, and from taking pictures to his normal duties as a printer. Pachal worked for four publishers – Gordon Neale, Andy Anderson, Paul Rockley, and Gordon Scott. Through his 45 years operating the presses, he saw a lot of changes. Each new publisher introduced new technologies to improve the business. Hot-metal cast illustrations were replaced by plastic engravings. Linotypes were replaced by first-generation cold typesetting. Newspaper pages were once locked up on "turtles", but that was replaced by pasted up pages taken to a central web plant such as the Lethbridge Herald had. Over time, production quality continued to improve, and people wanted to see more colour and pictures, and better design. So along came modern offset presses. Newer generations of computers and software offered more alternatives. Pachal used to say that little changed in the industry for years, but when change came, it came fast, often and continuously.
Pachal retired officially from the Local Press on Friday, Feb. 27, 1998. It was 45 years to the day when he started that fateful day he stopped in because the guys at the Macleod Gazette told him there was a job opening at the Claresholm Local Press. He would remain active in his church, become involved in the community in organizations such as the chaplaincy program, and continue to contribute. For a lifetime of effort and dedication to his community, Pachal was named the citizen of the year in 2017.
What made the Local Press a family was the way Pachal treated people with respect and love. When he worked at the paper, he made the coffee in the mornings, and brought the doughnuts or cinnamon buns for coffee breaks. Long after he retired, Pachal continued to pick up his paper every Wednesday. It was as much an opportunity to pop in, visit, and see how everyone was doing and give a hug. Because for Roy Pachal, it was not about the paper, it was about the people.