Child Care Society annual art fundraiser featured great art work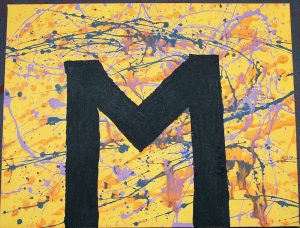 Lawrence Gleason, Local Press Writer
Cullan Mackrel is an artist whose composition, Semi Colon Power, received a silent auction bid of $70 at the  annual Claresholm Child Care Society annual art exhibition and silent auction, held on April 25.
The annual fundraiser features art from the children.
That $70 bid was attained about halfway through the day.
Mackrel is a former student at the child care society. His compositional art work was for Autism Awareness Month, and for Mental Health Awareness Month, taking place in May.
The artwork of the children is usually bid on by parents and friends.
MhyKoh's painting, Splat, featured extraordinary purple and blue and orange lines of various shadings and widths, with just the right size dobs of paint to break them up. Jackson Pollock did much the same thing and his art sells for millions. MhyKoh put a large dark M in the painting's centre, something Pollock never tried.
A similar painting, by Alex, entitled Crazy String, featured neon yellow as the main colour. The affect was accomplished using string, ribbon, pom-poms and sponges. Beat that, Jackson Pollock.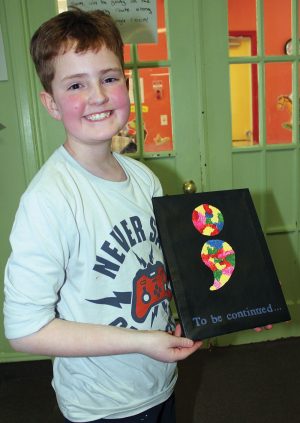 Two unique art pieces were group works, entitled "Pour Painting," and would have looked great in anyone's living room. The bid half way through the day was at $25. A steal.
Arctic Moon, painted by Minna, featured a beautiful night arctic scene with a profile of a mother polar bear and cub.
There were too many great paintings to describe. Everyone who bought a painting seemed to get their money's worth, all going to a great cause.