White wins provincial speaking competition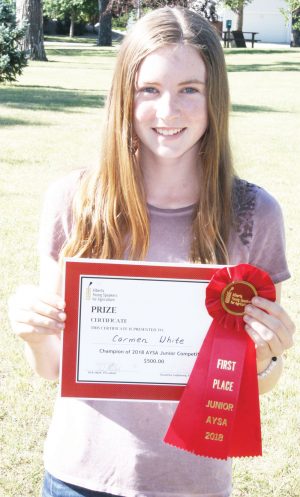 By Rob Vogt, Local Press Writer
Carmen White is passionate about agriculture and loves to talk about it.
She took first place in the Alberta Young Speakers for Agriculture competition at the Calgary Stampede on July 11, earning $500 and a trip to Toronto.
"I was surprised because everyone's speech was really good," White said.
She competed once before, two years ago, when she took fourth.
"I was really proud of that," White said. "(But) I never expected to win."
Competing in the junior category, for ages 11 to 15, she spoke on the topic, "What is sustainability and why does it matter to Canadian agriculture?"
That could mean anything where resources are used more responsibly, from water to pasture management and much more.
Choosing that topic may have given her an edge too. Virtually all the other competitors chose, "How can we educate urban populations about where our food comes from and the industry standards involved?", so having a different topic allowed White to stand out a bit.
It was the same speech she gave when she won her club and district 4-H speech contests, so it has been a successful year.
Now she will represent the province in the Canadian Young Speakers for Agriculture competition in Toronto on Nov. 3
"Hopefully I can represent Alberta well," she said, noting last year, Alberta's speaker finished second in Canada.
Last year Chancey Lane, of Claresholm, took home first place in the senior competition, for ages 16 to 24.
This year, he was back emceeing the event.
"It was nice to see him again," White said.