Tee Pee Trailer comes home; vintage trailer rally a success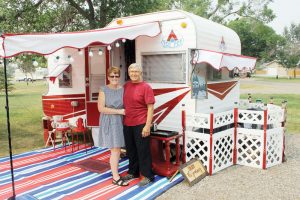 By Rob Vogt, Local Press Writer
More than 50 years ago the Claresholm Industrial Airport was abuzz with activity.
More than 350 people worked at Safeway Shelter Systems producing among, other things, the Tee Pee Trailer.
It was a camper trailer that dotted the landscape that people pulled around then parked to camp in.
The Tee Pee Trailer came home for a vintage trailer rally at the Centennial Park Campground from Aug. 17 to 19.
A total of 22 trailers descended on Claresholm for the rally, to show off their units, share memories, and meet new people.
"This was a huge success," said organizer Terri Mason, who brought her unit called Miss Adventure, a 1967 Tee Pee Trailer.
The event had a trailer trash swap meet, featuring vintage items people may want to share or may be looking for, such as Butyl tape which is used for water-proofing.
"A lot of vintage kitsch, decorative items," Mason said.
On Saturday night, the Penner family of Calgary hosted a vintage movie night, providing an outdoor projector and surround sound.
Fittingly, the movie they played was, "The Long, Long Trailer", starring Desi Arnaz and Lucille Ball.
Allan and Janice Anderson of East Selkirk, Manitoba, came the furthest with their 1964 Tee Pee Trailer.
They bought it in 2014, intending to fix it up and take it out to a daughter's spot on a nearby lake.
The trailer had squirrels, bird's nests, and water up to the eye balls, Janice said. There was roof damage and mud underneath too.
"It was ready for the junk yard," she said.
Then she did some research, and discovered a whole community of vintage trailer owners.
"This is a thing," she discovered.
"We didn't know what we had at the time," Allan added.
So they set to work.
The trailer was completely gutted, but rebuilt using the same layout with bunk beds that fold out.
"We tried to stay true to what was here," Allan said.
Jim Pedersen, who is from Claresholm and still lives here, paid a visit to the rally to talk about his time manufacturing trailers out at the airport.
"I was in on the first five that were built," he said.
In fact, Pedersen designed the gigs used to build the trailers.
Garry Pedersen, who was the gig maker, and Robert McKee, who did the plumbing for the trailers, also paid a visit shared their memories with guests.
"It's been phenomenal to have these people come out and appreciate what we've done," said Janice Anderson. "It's been lots and lots of fun.
"I loved every minute of it."
Eva Haug brought her Tee Pee Trailer, built in 1959 or 1960, from Edmonton to the rally.
She found it interesting to meet those who had worked at the plant.
"We had other people who worked on the trailer come and talk to us," she said, which was great.
They will be back again next year, on the same weekend in August at the Centennial Park Campground.
"If anyone has a vintage trailer, feel free to come join," Mason said.