Student travels to Africa to help those in need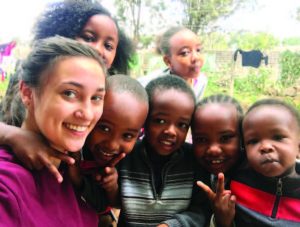 By Rob Vogt, Local Press Writer
Tori DeDominicis wants to help those who may not be able to help themselves. Recently she returned from Africa where she spent almost a month volunteering in Kenya.
DeDominicis left on July 4, arriving a day later on July 5 and stayed until July 29, returning home July 30. She and her sister Bella were in Ngon, about an hour from Nairobi where they worked with a group called Living Positive Kenya. The group works with women who are HIV positive.
"They give them life skills," DeDominicis said. Those skills include sewing, farming and creating their own businesses. "We worked at the day care," DeDominicis said.
They taught music to children, ages three to six, helped them with language and math, and played with them at recess. They also visited projects such as the Global Hope Centre, which is a rehabilitation home for street boys. One man in particular finds these boys, brings them home and feeds them. The centre consists of long rooms of beds that can house 92 boys, who are given various responsibilities that hopefully will teach them skills to keep them out of the drug trade.
"They don't get a lot of love so we were giving them love," DeDominicis said.
They visited schools including a boarding school that's main focus was protecting Masai girls. Often girls as young as 12 marry old men. The school then loses these girls to pregnancy at a young age. DeDominicis and her sister talked to these girls.
"We went and told them to stay in school," she said. "Gave them little pep talks and heard their stories." Maybe they got through, DeDominicis said, but she was not sure. "I think so," she said. "When we left, they were all really excited." One of the projects was to help these girls write down their goals. "They were empowered," DeDominicis said. "And excited to see their future."
While in Africa, they also went on a safari. They saw elephants, giraffes and visited the Nairobi National Museum. "We fed a giraffe and her name was Daisy and she was so cute," DeDominicis said. They also witnessed the world's biggest slum called Kibera. "It was so sad," DeDominicis said. This was DeDominicis' second trip to Africa, having visited Uganda in 2015, and she plans to go back in the future.
Until then, she has enrolled at Mount Royal University in Calgary where she will study public relations then take a two-year business program after her degree.
"Eventually I want to have my own organization that helps kids," DeDominicis said. The reason is simple. "I have everything I could possibly imagine and then some," she said. "I wanted to give back to people who don't."