Local skater wins Calgary competition; take second in Edmonton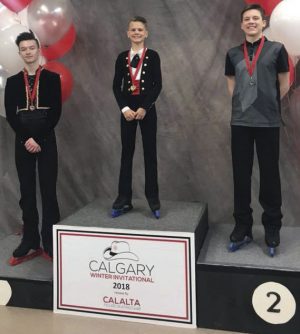 By Rob Vogt, Local Press Writer
A local figure skater continues to make strides in his sport, taking gold and bronze medals at a recent competition in Calgary.
Ethan Scott, 14, who is in Grade 8 at Willow Creek Composite High School, turned in his best scores of the season on March 18, winning the free skate and taking third in the short program with a score of 65.28 points at the Calgary Winter Invitational.
It was the best showing in his first season in the pre-novice event.
Up until now he had been competing in the juvenile event where there is just one program to skate.
This year in pre-novice he had to skate both short and long programs.
His season began a year ago at the Sunsational Competition in Edmonton where he took seventh.
He moved on to the Wild Rose Invitational Aug. 4 to 7, where he placed 13th.
"It took him a couple competitions to get used to the programs," said Tracy Scott, Ethan's mother.
Next up was the Canmore Invitational in September where he placed fifth.
"His scores went up every time," Tracy said.
Ethan began to hit his stride with Alberta Sectionals in Lethbridge where he took sixth.
However, he beat his best score ever by eight points.
"He skated the best skate of his life," Tracy said.
That score propelled him to the Skate Canada Challenge in Montreal in December where he competed against the best skaters in the nation.
Livestreamed worldwide, Ethan again beat his top score and met a lot of people he looked up to at the same time, on his way to finishing 38th in the entire country.
"It was cool," Ethan said of the experience.
He returned to Alberta where he took gold in the free skate and bronze in the short program at the Calgary Winter Invitational.
His most recent result was a silver in the short program and fourth place in the long program at the Sunsational Competition in Edmonton just a few weeks ago.
In 2017 he also received the Brian Pockar Award for the Alberta Section and the Calalta most improved juvenile skater.
Another highlight was attending BC Skate in Vancouver in August where he could skate in front of his whole family who are from that area.
His next meet is the Wild Rose Invitational in August, and he will be training hard for that, skating five days a week in Calgary.
His long-term goal is to go to the Olympics.
Ethan's goal for this year is to go to the Skate Canada Challenge and make the top 20.
And there is a simple reason he commits so much time and effort to skating.
"I love it," he said with a big smile.