Lambert wins 15th annual Glen Keeley Memorial Bull Riding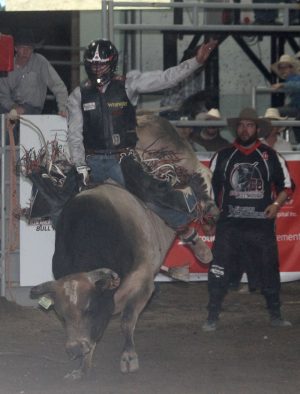 By Rob Vogt, Local Press Writer
A year after sharing the title, Zane Lambert stands alone as the 15th champion of the Glen Keeley Memorial Bull Riding.
The reigning PBR Canada champion won the 15th annual event held on Saturday, Sept. 1 at the Stavely Arena.
Last year, Lambert tied with Jared Parsonage for the championship, but this year would be another story.
A full 10 riders qualified for the championship round, led by Wacey Finkbeiner of Ponoka, with a score of 88.5 points.
Lambert, who also hails from Ponoka, was second with an 87.
Lachlan Slade of Australia was third, with an 86.5; Lachlan Richardson, also of Australia, was fourth with an 86; Chase Thielen of Milk River was fifth with an 84.5; and Matt Triplett of Montana was sixth with an 84.
Aaron Roy of Yellow Grass, Saskatchewan and Cody Coverchuk of Meadow Lake, Saskatchewan, were tied for seventh with 83.5; Parsonage, who is from Maple Creek, Saskatchewan and Nick Tetz of Calgary tied for ninth with scores of 82.
The riders compete in reverse order in the championship round, with the one with the lowest score riding first.
That meant Tetz would start things off.
If he scored again, he would put pressure on everyone else – and the rookie did just that.
Tetz held on for eight seconds, and turned in a score of 84. Added to his first round, he moved into the lead with a total of 166.
After that, the bulls imposed their wills on the riders.
One after another, they were all bucked off, seven in a row to be exact.
It looked more and more like the Calgary cowboy would engineer an upset.
Only Lambert and Finkbeiner remained.
However, Lambert was not to be denied this night.
He turned in the best ride of the night, scoring a 90.5, to move into the lead with a score of 177.5.
Only Finkbeiner stood in the way now.
He needed 89 to tie, or better to win.
But it was not meant to be, as he was bucked off, giving Lamber the title he had to share just a year ago.
"It felt good today," Lambert told the crowd after accepting the championship. "Everything worked out."
Blake Smith won the junior bull riding; and B.J. Kramps was awarded the Glen Keeley Memorial Ring of Honour for his contributions to the sport.
The winners of the triple-event challenge were also honoured.
The riders who entered the PBR events in Czar, Coronation and Stavely, with the best score won.
Roy took first place, and $5,000, while Richardson was second, earning $2,500.