Bantam Cobras open season this weekend at home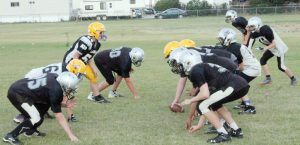 By Rob Vogt, Local Press Writer
The Claresholm bantam football team has a new look this season, and they will be unveiling it to the public at the Willow Creek Composite High School field this weekend.
Out are the Raiders, the name the bantam team has had since they began almost 20 years ago, along with their black and silver uniforms.
In are the Cobras, to match the provincial champion high school team, along with the same yellow and gold uniforms as the high school team.
The Cobras open their season this Saturday, Sept. 8, at 6 p.m. when they host the Lethbridge Bulldogs.
It is hoped the new jerseys will arrive in time when the Cobras take the field Saturday night.
There is no charge and everyone is encouraged to come and check out some bantam football excitement.