Hemmaway shares 'Jason's Journey' of positivity and hope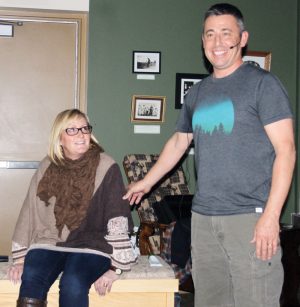 By Rob Vogt, Local Press Writer
It has been a journey of perseverance, hope, and positivity.
This fall was the sixth anniversary of when Jason Hemmaway lost his leg below the knee in a workplace accident, and he took a few moments recently to recount his journey for more than 40 people at the Claresholm Public Library.
It was the most recent installment of the library's Exploring Your World series.
"Six years have gone by in the blink of an eye," Hemmaway said.
At the time, he was working on the garbage truck. Currently, he is the town's community peace officer.
It was the third stop of the day on Nov. 30, 2012, when he was run over.
The driver hopped out, and Hemmaway asked him for a belt and to call 911.
Hemmaway, who was a member of the Claresholm Fire Department and had emergency response training as well, made a tourniquet with his belt to tie off the injury to his leg.
Another town staff member, who had been with the Granum Fire Department, came and held the tourniquet.
"I knew I had to stay calm," Hemmaway said, so he would not go into shock. "I had to relax."
An ambulance took him to Calgary. They had tried to get STARS Air Ambulance but the weather was too inclement.
He felt the feeling go out of his right arm and leg. His body was trying to conserve blood.
The nurse in the ambulance he had known his whole life.
"You've lost a lot of blood, and we can't stop it," she told him.
Two more tourniquets were put on.
Hemmaway knew he had to focus, so he thought about his wife and three kids.
"The four people that mean the most to me," he said.
"I'm not going to leave this world," he vowed.
They got to the emergency in Calgary and Hemmaway had blacked out.
When he awoke the nurse asked him how he was. He then asked how she was doing.
"No one has ever said that to me before," she said.
He was told they were going to amputate, but the calf muscle could be saved.
His hemoglobin had dropped to 32 grams per Litre. Normally for a male it is 140 to 180.
"My blood was pretty much saline solution," he said.
There was a risk of his kidneys shutting down too.
The first surgery took more than six hours. When it was over, he called wife Deb from the recovery room to see how she was doing and tell her he was out and okay.
The next day the surgeon came to Hemmaway's room, shook his hand and congratulated him on cheating death.
One of the lessons he learned, he said, was not taking for granted the things people go through.
"It's really made me empathetic to the people around me," he said. "This process has really opened my eyes."
Hemmaway had to have a second surgery on Dec. 2 to clean up the would and attach the calf muscle around the end of the femur because the bone needs tissue to give it support and protect.
If he had no calf muscle, he would have required another operation to amputate the leg closer to his groin.
The skin was not healthy because it had been deprived of oxygen too long.
On Dec. 5, Hemmaway sat up for the first time, although only briefly because he tired quickly.
He was told the sooner he got into physiotherapy, the better his chance of recovery.
So physio started on Dec. 7, seven days after the accident. He was surprised at how much weight and muscle he had lost in a short time. He was lifting five pounds. A week earlier he had been lifting 40-pound garbage cans.
A third surgery took place on Dec. 13, when doctors decided to debride, or cut off, the dead tissue.
A fourth surgery was done on Dec. 15. More dead skin was removed, meaning Hemmaway needed a skin graph.
Doctors took skin from his injured thigh and graphed it onto the end of his stump, and the bandage had to stay on until Dec. 21, undisturbed.
"That was the most pain I've been in my entire life," Hemmaway said.
The dressing on his stump was removed on Dec. 21.
He was moved to a larger room on Dec. 23, so Deb and his three children could move in for Christmas. The nurses gave them their Christmas tree, and chipped in for a turkey dinner.
Hemmaway was moved to Carewest on Dec. 28, a rehabilitation facility beside the Rockyview hospital.
They had been given a choice – daily physio at Carewest, or physio at home. They decided the fastest way to get back to life would be to stay in the facility where Hemmaway could have physio every day.
That meant living in Calgary until he could use crutches, but then he could only go home on weekends. It could still take one to two years doing therapy daily.
Hemmaway would be released from Carewest in six months.
He did physio and exercises every day from 9 a.m. to noon and 1 p.m. to 4 p.m. On Feb. 19 he received his first mechanical knee, learned to walk in three months, then received the bionic knee and learned to use that in a month.
"Whatever they threw at me, I did it," Hemmaway said. "If you invest in yourself, it will pay rewards – and stay positive about it."
He was told to talk to his stump, which he did, and he accepted this had happened to him. That, along with remaining positive, has resulted in him experiencing little phantom pain.
The bionic knee allows him to walk the way anyone else walks.
However, Hemmaway no longer knew how to walk, so he went to the mall and watched how people walked. He had to learn how to walk again.
"We all learn how to walk when we're babies," he said.
The other advantage of a bionic knee is he can go up and down stairs.
"You get really used to falling down," he said with a smile.
He received his bionic leg on May 11, and stayed at Carewest until June 1.
While he was at Carewest he also received psychiatric help, talking to a psychiatrist every week.
"I would recommend that to anyone," Hemmaway said. "They are professionals, they are there to help us."
Once he wet home, he spent five months doing physio three days a week in Lethbridge.
One of the agreements to receive the bionic knee was that Hemmaway was required to go back to work in the capacity that he left.
He returned to work on Oct. 30, 11 months after his accident, a Workers' Compensation Board record.
"I got lucky," he said. "I had a lot of help."
In order to keep the bionic knee, he has to stay physically active, prove he requires it for his job, and maintain responsibility for respectful use of the knee.
It is owned by the Workers' Compensation Board.
Hemmaway concluded by talking about the possibilities that exist.
He went back to the Claresholm Fire Department where he stayed for three more years, retiring after 10 years of service.
When he was in the hospital, the fire department and RCMP along with the Kinsmen held a charity hockey game, to show their support for Hemmaway and his family.
He made a video from his hospital room that was played at the game, in front of a large crowd of supporters.
"As a person who gets involved in the community, I never wanted anything back," he said. "It's really cool to see that come back to you."
He was amazed to hear about the number of people who attended.
"It's impactful to see a community come together," he said.
Members of the community also decorated the Christmas tree in front of the Hemmaways' house that Christmas.
Hemmaway retired from the fire department because he wanted someone else in the community to have that experience.
He read his resignation letter to the fire department, and did something else.
"I walked around, shook everyone's hand and said thank you for being part of that family," he said.
Hemmaway also talked about the support he received from friends he used to hike with.
"You never know how that's going to affect your life down the road," he said.
He has taken up kayaking, something he does with his family.
"It is extremely peaceful," he said.
Hemmaway talked about how he can do anything.
He has snorkelled, played hockey at Winterfest, and went to Jamaica one year after his accident. It was his first time on a plane and at an airport.
He talked about creating possibilities in life and living into them.
Life has changed dramatically for Jason Hemmaway. He has a new respect for life, family and community. Life is not easy but it is possible.
"Every moment is a gift," he said.
He has a new respect for relationships. People don't know what they have and what support they have.
Life is precious, every moment is precious," he said, adding you can't hold on to the past or worry about the future. It is impossible to change.
"Accept that change," Hemmaway said. "Being present in every moment is the best thing you can do."