Lomond Lakers drop weekend set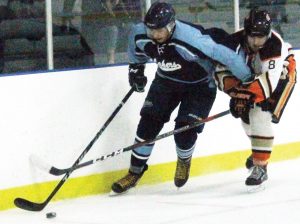 By Rob Vogt, Local Press Writer
It was a tough weekend for the Lomond Lakers, who play their homes games at the Claresholm Arena, on Heritage Junior "B" Hockey League action.
The Lakers hosted the Coaldale Copperheads on Friday night, Nov. 30, dropping a tough 5-3 decision.
The Copperheads led 4-2 after the first period, there was no scoring in the second period, and the teams exchanged goals in the third period.
Scoring for the Lakers were Kyle Fry, assisted by Taylor Dengler; Wacy Sandum, assisted by Tyler Rohl and Claresholm's Clayton Billyard; and Sandum, assisted by Gary Doherty and Claresholm's Gavin Burns.
Goaltender Brady Newton stopped 62 of 67 shots he faced.
The teams had a rematch the next night, Saturday, Dec. 1, which the Copperheads won in Coaldale by a score of 6-1.
Coaldale led 2-0 after 20 minutes, 4-0 after 40 minutes, and 5-0 part way through the third period when Burns got Lomond on the scoreboard on the power play, with assists from Doherty and Sandum.
The Lakers wrapped up their weekend on Sunday, Dec. 2, with a 9-1 loss to Cochrane at the Claresholm Arena.
Cochrane led 3-1 after the first period, before breaking the game open with two unanswered goals in the second period and four more in the third for the 9-1 victory.
Kirk Fraser had Lomond's goal, set up by Dengler.