Red Deer cowboy wins 20th Glen Keeley Memorial Bull Riding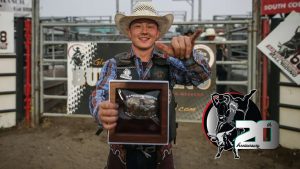 By Rob Vogt
Ashton Sahli knew exactly what he had to do when he settled in for the final ride of the night.
Check in with a score of 86 or better and he would win the 20th edition of the Glen Keeley Memorial Bull Riding.
With the crowd increasing in intensity as he rode, Sahli hung for eight seconds and everyone waited for the score.
"88 points,"declared rodeo announcer David Poulsen.
That meant Sahli had won the event, held at the Stavely outdoor arena on Saturday, Aug. 19.
It was a long journey back for the Red Deer rider, who missed last year due to injury.
"I had to get everything back right," he told the crowd. "We're rolling now."
His approach has been consistent and will continue to be.
"Bull by bull," he said. "Take them one at a time."
It looked as if 2021 Glen Keeley Memorial Bull Riding champion Nick Tetz of Calgary was going to win, after turning in an 87.5 ride on his second bull to go with an 86.5 score on his first bull for a total of 174.
Sahli led after the first round with a score of 88.5, so that 88-point ride gave him a score of 176.5 and the title.
Jake Gardner, of Fort St. John, B.C. was third with a score of 170.5, after recording an 83-point ride in the first round and scoring 87.5 points in the championship round.
Tetz was also fourth with a total of 169.5, after turning in a first-round score of 84 to go with his championship round ride of 85.5 points.
Cody Coverchuk, of Meadow Lake, Saskatchewan, was fifth with a total of 169, after checking in with a score of 84 in the first round and 85 in the championship round.
No other riders rode two bulls.
In the first round, Coverchuk also recorded a score of 83.5 on another bull.
Mike Ostashek of Edson had a ride of 82 points; Brock Radford of DeWinton turned in a score of 81 points; and Tyson Salmon of Esterhazy, Saskatchewan had a ride of 79 points.
Chad Hartman of Lancer, Saskatchewan was the 10th rider in the championship ride.
He did not have a qualified ride of eight seconds, but was the closest to eight seconds to fill that 10th spot in the championship round.
The evening also featured a number of awards and presentations.
Tetz was honoured for Best Spur Ride, while Blue Magic was the Bull of the Night.
Hayden Mulvey won the junior bull riding, and Jack Emerson won the steer riding.
Four Glen Keeley Memorial Scholarships were handed out to Keeley Glover of Nanton; Mardi Kitchen of Stavely; Lydianna O'Neil of Claresholm; and Nyomi Brobbel of Fort Macleod.
Cheques were presented to three worthy community organizations as well.
The Stavely Agricultural Society received $5,000; the Stavely Fire Department received $1,000; and the Claresholm and District Health Foundation received $1,500.
That brings the total the Glen Keeley Memorial Bull Riding has put back into the community at more than $400,000.