Livingstone-Macleod MLA opens office in Claresholm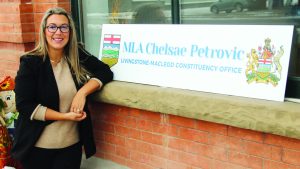 By Rob Vogt
The constituency office for the MLA for Livingstone-Macleod will be in downtown Claresholm.
Chelsae Petrovic officially opened her constituency office on Saturday, Oct. 28, at 4927 – First Street West.
"It's a way for us to open the door and welcome the constituents in," she said.
Previously, there were two constituency offices, in Pincher Creek and High River, but Petrovic has amalgamated them into one located centrally in Claresholm.
"It's going to allow me the time to serve all of the constituents in the riding," she said. "It's a way to reach every constituent."
Petrovic added this will allow her to travel around Livingstone-Macleod more and equally represent the riding.
She will have three staff members led by office manager Catherine Chaykowski.
"She's the glue that holds the office together," Petrovic said.
Staff will be answering phones, scheduling, and helping with ministerial requests.
"They are in charge of the day-to-day communication," Petrovic said.
The office will be open 9 a.m. to 4 p.m. on Monday to Thursday, and 9 a.m. to 1 p.m. on Fridays.
"We're receiving an (incredible) amount of phone calls," Petrovic said.
Because her policy is to return every call, she is asking people now to call and make appointments to meet with her.
"We can give it the attention it needs," Petrovic said.
The number at the Livingstone-Macleod constituency office is 1-587-424-2004.